Oral health in a state of crisis, says The Lancet
FDI welcomes the Lancet's special series on oral health that challenges the global health community to "end the neglect of oral health". The Series led by researchers at the University College London brought together 13 experts from 10 different countries to determine why oral diseases have persisted globally over the last three decades.
Oral diseases, such as tooth decay, gum disease and oral cancer, are the most common chronic diseases worldwide, affecting around 3.5 billion people. Despite this, oral health has been largely ignored by the global health community and as a result poor oral health is a silent epidemic.
"Dentistry is in a state of crisis… and a fundamentally different approach is required to effectively tackle the global burden of oral diseases."
The Series argues that addressing the global burden of oral diseases constitutes a major public health challenge that requires shifting the focus from the existing treatment paradigm to one that emphasizes disease prevention and health promotion. FDI is committed to meeting this challenge by taking a leadership role in working with its National Dental Associations, partners and fellow international health organizations. One of the cornerstone strategies of FDI is to ensure oral disease prevention and control at both the governmental and population levels.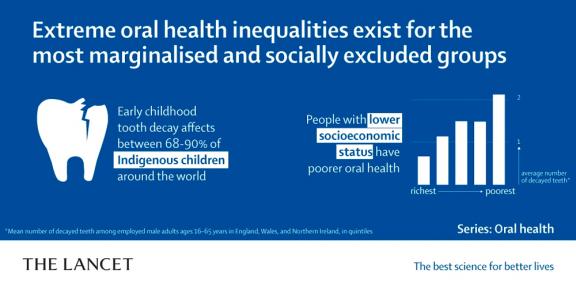 Alarmingly, researchers warn that the burden of oral diseases is set to rise, as more people are exposed to the main risk factors for oral diseases, including sugar, tobacco and alcohol. The report singles out sugar as a major source fueling the oral health crisis – it is the leading risk factor for dental caries (tooth decay), the most common and preventable noncommunicable disease worldwide. FDI fully supports the report's recommendation to implement the World Health Organization's (WHO) guideline on sugar intake to prevent tooth decay and encourages countries to consult FDI's practical guide on sugars and dental caries. There is solid evidence that keeping intake of free sugars to less than 10% of total energy intake reduces the risk of overweight, obesity and tooth decay.
The Series comes at a crucial time ahead of the first-ever United Nations High-Level Meeting on Universal Health Coverage (UHC), where countries will pledge to accelerate progress on achieving UHC. FDI believes that oral health must be part of primary health care and UHC. During the World Oral Health Forum at the ADA FDI World Dental Congress this September, panelists will debate the evidence, strategies, and solutions that are essential to stop governments from neglecting and marginalizing oral health and provide a roadmap for making optimal oral health a global aspiration and an essential component of universal and primary health packages.
Find out more...
Momentum behind Universal Health Coverage (UHC) has grown in recent years with endorsements from the World Health Assembly and United Nations General Assembly. It is now a pressing priority issue for many countries – in 2015, all United Nations Member States agreed to aim to achieve UHC by 2030, as part of the Sustainable Development Goals.