Celebrating 'a lifetime of smiles': tell us how you participated in World Oral Health Day's activities this year
Share with us what you did on World Oral Health Day for a chance to win a WOHD Award! Listen to Dental Check-up, and get inspired by worldwide events commemorating World Oral Health Day.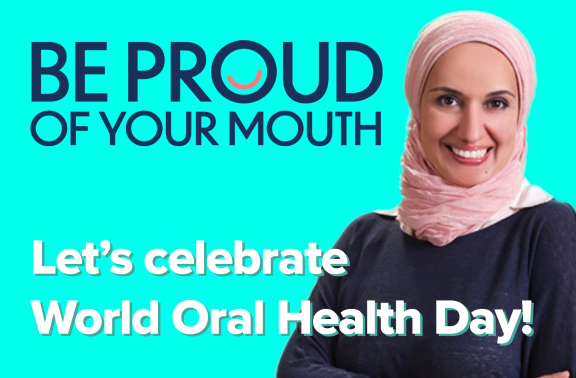 Every year, World Oral Health Day (WOHD) is celebrated on 20 March. The celebration unites people around the world with the necessary tools to secure and maintain good oral health.
This year marked the finale of our three-year campaign "Be Proud of Your Mouth." We have received incredible support from people all over the world spreading WOHD messages on social media platforms and adding their smiles on the Mouth Proud wall.
Since the 2023 campaign launch last September, you've shown us to "Be Proud of Your Mouth for a lifetime of smiles," and emphasize the importance of taking care of your mouth at every stage of life by participating in the activities like the #MouthProud Challenge.
From the time of its release in 2020, the "Be Proud of Your Mouth" campaign has reached more than 4 billion people in 209 countries!
With your involvement this year we have engaged stakeholders including our members, Chief Dental Officers, hospitals governments, partners, educators, and organizations like the World Health Organization (WHO) and others across health sectors and professions. 
Thank you to everyone who participated in this year's WOHD celebrations! All your hard work to promote the campaign has been instrumental in spreading awareness about the importance of good oral health at every stage of life for a lifetime of smiles. 
Let's continue to spread our World Oral Health Day messages far and wide
Although WOHD is behind us, building awareness for good oral health is a year-round effort. We must continue to spread our messages far and wide. 
Listen to our special podcast episode
As the global voice of the dental profession, representing more than one million dentists worldwide, FDI's flagship podcast the Dental Check-up puts the spotlight on topical issues in oral health.
This World Oral Health Day, a special episode of the Dental Check-up was released. The episode brings you voices from around the globe, who share their personal experience of leveraging WOHD to help improve oral health. 
In this episode of the Dental Check-up, Dr Charanjit (Chaz) Jagait and Dr Elham Kateeb raise awareness of the purpose of WOHD highlighting how the campaign relies on everyone's collective efforts to reach different audiences and spread important oral health messages, far and wide.
At the heart of the campaign's success lies the interactions between different nationalities, audiences, and key stakeholders to spread the valuable messages of promoting good oral health. The episode, therefore, brings to life three success stories of previous WOHD award winners, showcasing some of the activities that can be carried out to promote and improve oral health from the perspective of health professionals, the general public, and beyond.
Listen to the full episode to learn about the power of World Oral Health Day and how you can continue empowering people to prioritize oral health and live healthier lives. 
Be part of the online conversation
Get involved for World Oral Health Day, whatever you decide to do, however big or small, contributes to improving the oral health of populations globally: 
Join the movement, and be a part of the #MouthProud Challenge: 
Post a video or photo of yourself using our Instagram and Facebook filters or online polaroid tool, to show that your mouth is important to you. Tag your friends to get them involved! 

Use this post to kick things off, or write your own… 
"This #WorldOralHealthDay, take part in the #MouthProud Challenge! Capture yourself in a video or photo to share what your mouth means to you. Together, let's spread the message and encourage people to look after their oral health to enjoy a lifetime of smiles. I nominate [tag four friends] #WOHD23 #MouthProud"
Add to our Mouth Proud Wall
Create your own personalized posters or social media cards quickly and easily online. Share them on our #MouthProud wall and directly to social media.
You can still get a chance to win the WOHD Award for the Best social media campaign!
Get a chance to win a WOHD Award: share your activity report
Make sure your hard work does not go unnoticed and get the chance to get recognized for your dedication. After 20 March, FDI invites you to complete your WOHD activity report. Your feedback is essential and enables us to grasp the global impact of our campaign; make improvements for the future; and celebrate the most impactful campaign through the WOHD Awards. Submit your activity report by April 30 at wohd.org/activity-report-2023. By doing so, you will automatically be entered into the WOHD Awards competition.
WOHD Awards
Every year, FDI gives out six World Oral Health Day Awards to recognize those who organized the most outstanding campaigns, rewarding the work of FDI members, students, and the public. The WOHD awards are divided into six categories.
For FDI members (National Dental Associations) only:
Most Educational Activity – this award is supported by our Global Partner, Unilever
Best Media Campaign – this award is supported by our Global Partner, Smile Train
For Dental Students Associations only:
Most Original Activity – this award is supported by our Global Partner, Dentsply Sirona
Best Social Media Campaign – this award is supported by our Global Partner, Haleon
For oral health professionals, the wider healthcare community, and the general public (non-FDI members):
Best Branded Photo

Best campaign by a dental practice or other healthcare setting 
To select the WOHD Award winners, FDI will start evaluating the activity reports.
This is what happens:
Submit your activity report by April 30

Campaigns are shortlisted and voted on by the WOHD Task Team, a group of oral health experts guiding and supervising WOHD.

A winner is selected for each Award category.

Winners will be notified sometime in June-July.

 
If you haven't already, submit your activity report today! Hurry up, the deadline is April 30.
We look forward to reading your activity reports and recognizing outstanding efforts through the WOHD Awards.
Thank you again to all for your involvement in WOHD23! We are humbled by your support in making WOHD23 a success.