2022 FDI Annual Report highlights efforts to propel oral health to new heights
Access and read the report to learn about the achievements and progress of FDI to improve oral healthcare over the last year.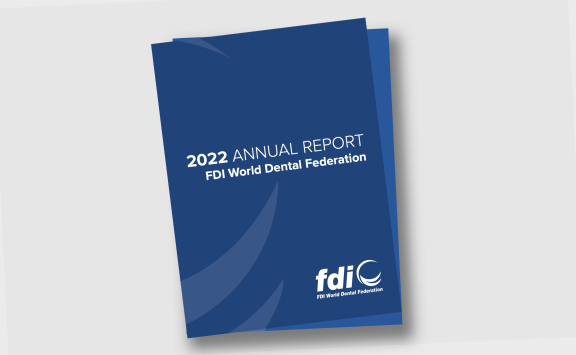 As the world embarked on the path to recovery from the unprecedented global health crisis caused by the COVID-19 pandemic, oral health emerged as a key priority on the global stage. The 2022 FDI Annual Report sheds light on the remarkable progress made in advancing oral health and emphasizes FDI's efforts to get closer to its goal to achieving optimal oral health for all.
A transformative year for global oral health
The year 2022 witnessed significant positive developments on the global oral health agenda, starting with the adoption of the World Health Organization's (WHO) Global Oral Health Strategy. This was then followed by the launch of the Global Oral Health Action Plan with targets to be achieved by 2030. FDI played an instrumental role in providing input for these policy documents, drawing from its own Vision 2030 and leveraging its expertise to influence global oral health policy.
The FDI Annual Report provides a comprehensive overview of the organization's key activities and accomplishments over the past year, demonstrating the power of collaboration in driving positive change in oral healthcare. Among the highlights are the successful World Oral Health Day celebrations, which mobilized communities and raised awareness about the importance of maintaining good oral health for good overall well-being. The report also showcases the impact of industry-supported oral health projects to improve oral health outcomes worldwide, and it offers a glimpse into the future, with a preview of the upcoming World Dental Congress and other initiatives poised to shape the global oral health landscape.
Together, these accomplishments underscore FDI's unwavering commitment to enhancing oral health globally by fostering partnerships, sharing knowledge and uniting stakeholders.