Save the date: 2022 World Dental Congress taking place in Mumbai
We are pleased to announce that the 2022 FDI World Dental Congress (WDC) will take place in Mumbai, India from 29 September to 2 October.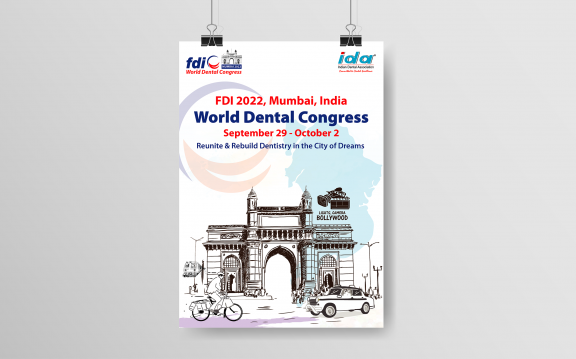 FDI World Dental Federation (FDI) looks forward to welcoming all attendees to Mumbai, India, for the 2022 FDI World Dental Congress (WDC) from 29 September–2 October. FDI is delighted to co-host this meeting jointly with, its member, the Indian Dental Association.
Held under the theme 'Reunite and Rebuild Dentistry in the City of Dreams', the Congress aims to, finally, bring delegates together in a face-to-face WDC after two years of disruption to in-person networking and learning opportunities.
The WDC is a flagship continuing-education event for FDI, strengthening ties and fostering collaboration within the global oral health community. The 2022 WDC offers a unique opportunity to meet with leaders within the oral health profession from around the globe.
To advance the art and science of dentistry, this congress will deliver a cutting-edge scientific programme, interactive forums, and a dental exhibition attended by the most prominent figures in the dental industry. The dental profession and the dental industry are essential partners in delivering oral health to populations around the world. Bridging the gap between the two is even more important today, as new materials and technology are developed to accommodate the latest treatment philosophies.
Every element is in place to deliver an event that serves to strengthen ties between the dental profession, industry innovators and committed stakeholders to raise the voice of the oral health community and advance the practice of dentistry worldwide.
See you in Mumbai!