Only two weeks to go to World Oral Health Day 2023
No matter your age – everyone should value and take care of their oral health. Get involved with WOHD23 to Be Proud of Your Mouth for a lifetime of smiles.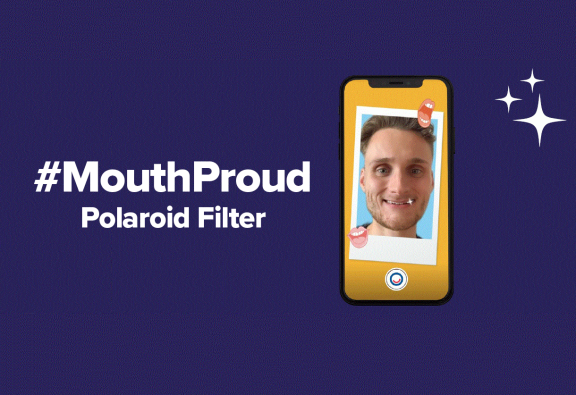 Join FDI's Mouth Proud Challenge and celebrate World Oral Health Day (WOHD) 2023, which is only a couple of weeks away! The challenge aims to inspire individuals, communities, and organizations around the world to celebrate their oral health and promote positive attitudes towards oral care.
Participants are encouraged to post a video or photo of themselves using the campaign Instagram and Facebook filters or online polaroid tool, to show why their mouth is important to them.
The Mouth Proud Challenge is part of FDI's efforts to raise awareness about the importance of oral health and encourage people to take action to maintain a healthy mouth. Join us in this global initiative to celebrate and promote oral health!
Join the #MouthProud Challenge
Mouths play a big part in everyday life. They enable us to enjoy a meal, talk to a neighbour, laugh with family and friends, sing for fun, kiss loved
ones, feel your best...
This year, we invite you to share a video or photo of yourself using our Instagram and Facebook filters or online polaroid tool, to show that your mouth is important to you. Tag your friends to get them involved! Use this post to kick things off, or write your own…
"This #WorldOralHealthDay, take part in the #MouthProud Challenge! Capture yourself in a video or photo and share what your mouth means to you. Together, let's spread the message and encourage people to look after their oral health to enjoy a lifetime of smiles. I nominate [tag four friends]
#WOHD23 #MouthProud"
Don't miss the chance to win the WOHD Award for the Best social media campaign.
Take me to the #MouthProud Challenge
Custom polaroid tool
The custom polaroid tools allows you to create customized posters and social media cards quickly and easily. It is available in English, Spanish and French. 
Get creative when you upload your photo: Gather your family and friends and take fun shots highlighting your mouths, whether it's smiling, laughing or framing the mouth. Interact with each other and have fun like in a Photo Booth. Encourage others to do the same.

Pick up a message and share your polaroid online using the hashtag #MouthProud challenge. Remember to tag us at @worldoralhealthday on Instagram.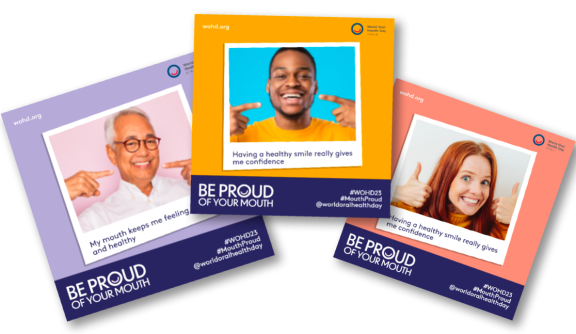 Instagram and

 Facebook filters
Our polaroid frame offers a perfect selfie moment. You can also record a fun video to share what your mouth means to you, just like a group of people does in our short campaign video.
Visit the WOHD Instagram page and click the filter icon (three stars) to find and use it. It's available on our Facebook page too. Customize your polaroid by clicking on it!
Remember to get mapped
As we enter the final year of the "Be Proud of Your Mouth" campaign, let's strive to make an even greater impact than before. In 2022, we saw over 500 oral health activities take place in 197 countries. We look forward to seeing what you have planned for 2023 and rely on your efforts to promote oral health worldwide.
Whether you will organize an oral hygiene webinar, a social media campaign, carry out dental check-ups, use the frames or organize educational activities in schools, it's time to share your activity and get mapped. Tell us and others what you are planning to do and then, please feedback on how it went. Outstanding efforts will be recognized through the World Oral Health Day Awards.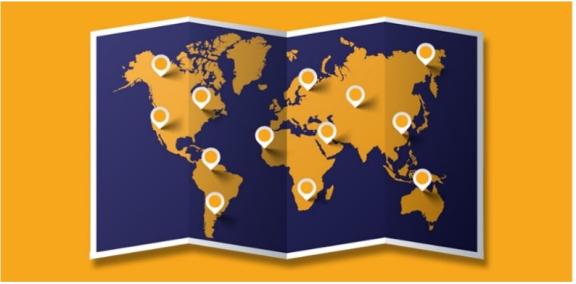 Download the campaign resources
Use the campaign materials to support your WOHD activities and events; most are available in English, French and Spanish. All assets are free to download and use, and with a wide range on offer, you can get involved in a way that best suits you.