With only two weeks to go until World Oral Health Day, make sure to get involved
With only two weeks to go until World Oral Health Day, FDI encourages people all around the world to use the campaign resources and drive awareness by spreading the word and getting involved in activities. Discover the wealth of resources available.
As World Oral Health Day (WOHD), celebrated every year on 20 March, is fast approaching, FDI invites everyone to get involved. Under the campaign theme: Be Proud of your Mouth for your happiness and well-being, WOHD relies on you to drive awareness on how to prevent and manage oral diseases. The campaign emphasizes that an unhealthy mouth can severely impact every aspect of life such as emotional, social, mental, and overall physical well-being. This WOHD, FDI hopes to motivate people to value and take care of their mouths and understand that in doing so, they also help protect their happiness and well-being.
To help you spread the word, FDI has prepared a variety of campaign resources that you can use when organizing your local activities and events. In 2021, we recorded over 500 activities in 197 countries. This year, we count on your actions to promote oral health globally and can't wait to see what you have planned.
Learn more, use the resources and get involved  
FDI believes everyone can help address the oral disease burden by sharing the WOHD campaign resources and encouraging people around them to take care of their mouths for their happiness and well-being. Discover the variety of resources available for you to drive awareness. You can get involved in a number of different ways and no matter how big or small your actions are, they all make a difference to help spread oral health messages.
Whether you are an oral health professional or a member of the public, celebrate WOHD by participating in the #MouthProudChallenge and get the chance to win the WOHD Award for the best social media campaign. To participate, use the online poster tool online poster tool or Instagram and Facebook filters to post a fun video or a photo of yourself demonstrating how you look after your oral health for your happiness and well-being. Individuals can show their commitment to good oral health by using the #MouthProud  frame as they are brushing and flossing properly, cutting out sugary treats, eating a healthy meal, or visiting the dentist. Oral healthcare professionals can use the frame to demonstrate good oral hygiene practices, correct toothbrushing techniques or just flash a natural smile to cheer someone up. Make sure to invite colleagues, friends, and family to participate in the challenge to be #MouthProud for their happiness and well-being.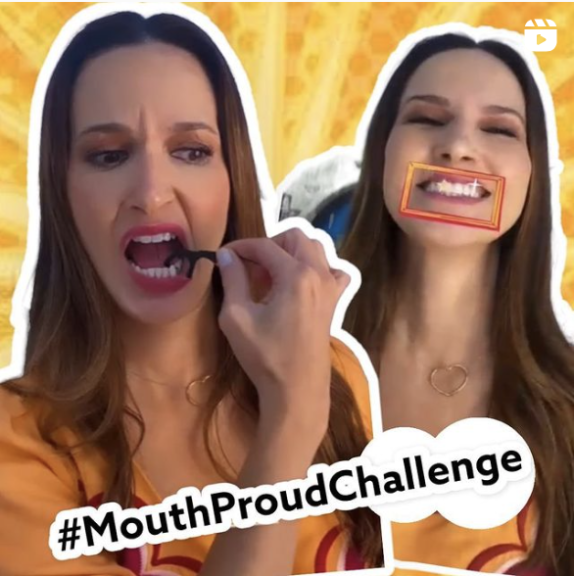 Dra Simone Cesar
Check out how WOHD ambassador, Dr Simone, is taking on the #MouthProudChallenge. Get inspired and share how you are taking action to be proud of your mouth.
You can also show your support by sharing ready-made messages to your networks through your social media channels and encourage them to join the conversation.
WOHD awareness efforts can also be conducted beyond social media. Whether you will organize an oral hygiene webinar, a social media campaign, carry out dental check-ups, use the frames or organize educational activities in schools, it's time to share your activity and get mapped. Tell us and others what you are planning to do and don't forget to let us know how your activity went. Outstanding efforts will be recognized through the World Oral Health Day Awards.
Get ready to be #MouthProud for your happiness and well-being. Visit the WOHD website and use the wealth of resources that are freely available. This WOHD, let's give everyone a reason to have a happy and healthy smile.