Here's what you need to know about celebrating World Oral Health Day this year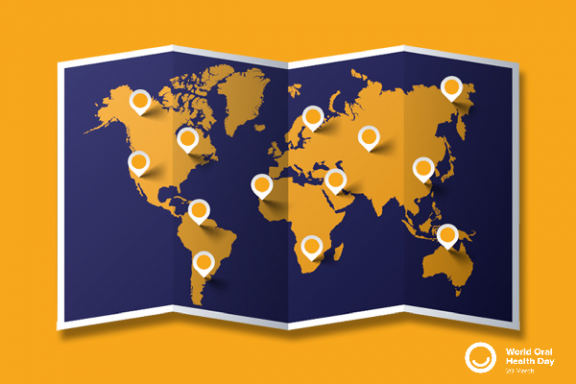 Less than two months to go until World Oral Health Day (WOHD) on 20 March. We've gathered some tips and tricks for you to be #MouthProud, have fun, and celebrate safely. 
It's that time of year again – World Oral Health Day (WOHD) is less than two months away. Have you thought about how you want to celebrate on 20 March? In 2020, we recorded over 300 activities coming from 177 countries: we can't wait to see what you have planned this year. 
Looking for some inspiration?
There is so much that you can do to celebrate and be #MouthProud. Have a look at the list below to see what the kinds of activities others have organized in the past:
Dental check-ups, dental practice visits
Conferences, lectures, round tables, workshops
Media events
School visits
Social media campaigns
Run/walk events
Add your event to the Map of Activities
Why? It's all about promoting the importance of oral health. When you add your own event to the Map of Activities, you get even more visibility by letting others know how you plan to celebrate. What's more, once you submit your activity to the Map, you become eligible for a World Oral Health Day Award, which further highlights the excellent work you're doing to improve oral health outcomes worldwide. 
Highlighting outstanding World Oral Health Celebrations in 2020
In 2020, the South African Dental Association (SADA) organized dental check-ups and school visits: 
SADA organized simple oral health screenings conducted by dental practitioners. Each branch delivered good oral health hygiene kits in 37 schools, reaching more than 10,000 children across South Africa. Dr Nthabiseng Metsing, SADA head of professional development, also shared oral health messages with 3,633 children. 
In 2020, the Hellenic Dental Association organized a series of media activities, ensuring that World Oral Health Day initiatives were featured in various online, print, radio and TV media. They organized a press conference and streamed it on YouTube and also issued a press release. 
What's more, the association was able to project the WOHD logo (through 3D projection mapping) on the Hellenic Parliament building on 20 March.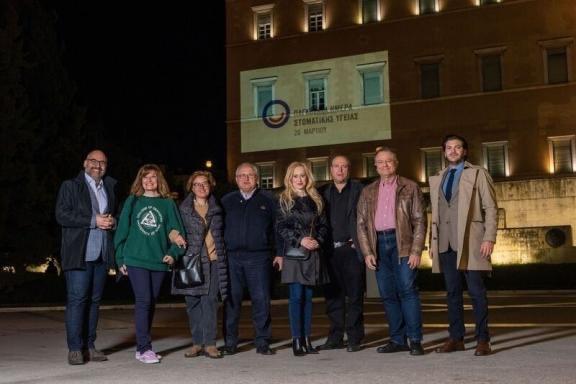 Hellenic Dental Association members pose in front of the World Oral Health Day logo on the Hellenic Parliament building in 2020. Photo courtesy of the Hellenic Dental Association.
Celebrating World Oral Health Day safely during these difficult times
The COVID-19 pandemic has changed the nature and scale of in-person events, but as the example of the Hellenic Dental Association shows, so much more is possible with today's technology.
The safety and security of everyone celebrating World Oral Health Day is always our priority. Stay informed and follow recommendations from your local/national authorities regarding gatherings.