COVID-19: FDI members distributed PPE for dental teams on World Oral Health Day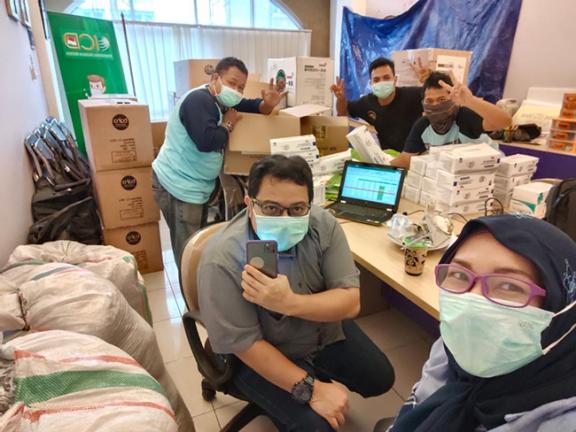 National dental associations participating in the FDI Brush Day & Night programme distributed PPE to dental teams during the COVID-19 pandemic
Since 2017, the Brush Day & Night programme which is supported by Unilever has been organizing World Oral Health Day (WOHD) celebrations throughout the world to offer children a platform to learn good toothbrushing habits and reinforce the importance of good oral hygiene routines. These WOHD celebrations include several million people every year. Due to the COVID-19 pandemic, in 2020 most of these oral health education activities were disrupted.
To celebrate WOHD, and given the exceptional circumstances, a number of FDI member national dental associations (NDAs) adapted their activities to distribute personal protective equipment (PPE) and offer guidance to dentists and dental teams at the outset of the COVID-19 pandemic.
In March 2020, a lack of PPE was one of the major challenges that dental teams were facing in the fight against COVID-19. The Indonesian Dental Association used their WOHD funding to purchase PPE and distribute it across the country to help dentists managing critical shortages during the ongoing COVID-19 outbreak.
Due to confinement measures, especially at the onset of the pandemic, many patients were unable to visit the dentist. 
For this reason, the Egyptian Dental Association developed an awareness campaign called "Going to the Dentist and COVID-19" – reminding the public to consult a dentist (remotely if in-person appointments are impossible) so the dentist can identify dental emergencies and so patients avoid 'do-it-yourself (DIY)' dentistry.
The Sri Lankan Dental Association prepared close to 6,000 "Safe Dental Treatment during COVID-19" posters and had them displayed outside dental clinics across the country. The association also organized trainings for dental teams on proper disinfection procedures. 
Dental associations used digital technologies to support patients and children to maintain good oral health
The Bangladesh Dental Society provided 24-hour tele-dentistry services as well as standard PPE for all dentists in partnership with Unilever Bangladesh (Ltd). 
In Chile, Colegio de Cirujano Dentistas de Chile (College of Dental Surgeons of Chile) focused on remote oral health education by producing various short films. A film made for children demonstrates a step-by-step oral hygiene routine, while another one encourages Chileans to keep visiting the dentist regularly (if guidelines allow), while a short film for dentists demonstrates how to use PPE effectively.
FDI reinforces oral health as an essential public service
FDI emphasizes that oral healthcare is essential to maintaining good overall health and routine oral care is necessary for the early detection, prevention, and control of oral health conditions. FDI recently submitted a statement to the World Health Organization's special session of the Executive Board and underlined the importance of adapting the COVID-19 response to ensure that the safest protocols are implemented to safely deliver essential oral healthcare services.
Find out more...
Tooth decay (dental caries) is the most prevalent form of oral disease, affecting approximately 2.4 billion people worldwide, with 486 million children suffering from caries of their primary teeth.
The Brush Day & Night programme seeks a sustainable solution to improve oral health and toothbrushing habits. It also encourages children to become community advocates and spread the message of good oral health to their families.