World Oral Health Day 2019 'Say Ahh: Act on Mouth Health' campaign calls for concrete action for good oral health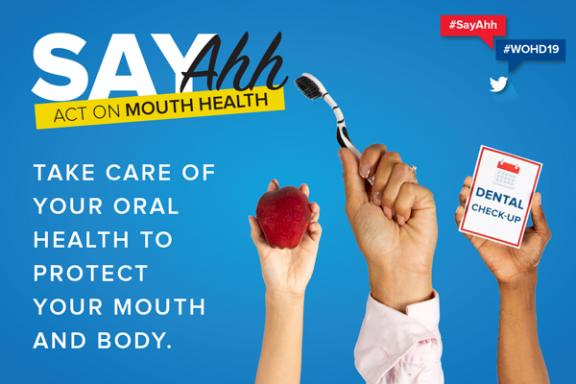 The official theme of the 2019 World Oral Health Day (WOHD) campaign is 'Say Ahh: Act on Mouth Health'. With this campaign, FDI calls on individuals to take tangible action to protect their oral health.
Millions of people around the globe continue to suffer from poor oral health and the growing burden of oral disease demands action on an individual, family and community level. Poor oral health extends far beyond the mouth, taking a serious toll on an individual's overall health and well-being. However, FDI is confident that concerted, targeted action can curb the prevalence of oral disease and make oral health a personal priority for everyone.
The WOHD campaign provides an ideal platform to raise awareness and encourage action in favour of good oral health. By leveraging thoughtfully coordinated efforts at local, national and global levels, the voice of the oral health community can be amplified leading up to WOHD, which is celebrated on 20 March every year.
'Say Ahh: Act on Mouth Health' motivates individuals to take charge of their own oral health by taking specific action to prevent oral disease and safeguard their overall health. Beyond the individual level, the campaign will position oral health professionals as key stakeholders in educating patients on the wider implications of protecting their oral health. Helping them recognize that preventive care is always the best option, but early detection and treatment are also crucial to ensuring the best outcomes against oral disease and associated health complications. The campaign will also aim to secure commitment from policymakers to address the oral disease burden and integrate oral health into policies that address other diseases.
WOHD encourages all stakeholders to work together to secure optimal oral health for all and commit to 'Act on Mouth Health'. Keep up to date with all the latest campaign resources by visiting the campaign website. You can already download the posters and new material will be added continually, so make sure you bookmark the page: www.worldoralhealthday.org
Recognizing global WOHD efforts
At the FDI World Dental Congress in Buenos Aires, Argentina, in September, FDI honoured the 2018 WOHD Award winners. Each year, FDI recognizes those who have made outstanding contributions to the campaign. FDI warmly congratulates each winner for their exemplary work and hopes that their efforts will inspire others to lead equally engaging campaigns of their own.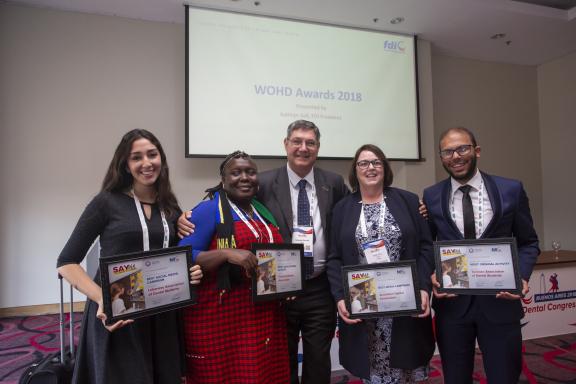 The categories and winners are listed below.
WOHD Award winners:
Most Educational Activity: Tanzania Dental Association
Best Media Campaign: Australian Dental Association
Most Original Activity: Tunisian Association of Dental Students
Best Social Media Campaign: Lebanese Association of Dental Students
Special recognition:
The Moroccan Association of Oral Health Prevention
Public award:
In addition, Dr Nina Dental Clinic from Macedonia won the award for the Best Branded photo, which is a category open to the general public and organizations that are not FDI members.
What is World Oral Health Day?
World Oral Health Day (WOHD) is a far-reaching global oral health campaign. It is a platform for the public, oral health community, and policymakers to help reduce the overall oral disease burden.
WOHD is celebrated on 20 March every year; the day was first declared by FDI in 2007 and first officially celebrated in 2013. It is the culmination of a year-long campaign dedicated to raising global awareness on the prevention and control of oral diseases. It is an international day to promote good oral health for everyone and empower individuals to maintain a healthy mouth at all ages.
---
Find out more...
World Oral Health Day is celebrated every year on 20 March. It is an international day to celebrate the benefits of a healthy mouth and to promote worldwide awareness of the issues around oral health and the importance of oral hygiene to looking after everyone old and young.