Palestinian Dental Association champions access to dental care for migrants living in Greece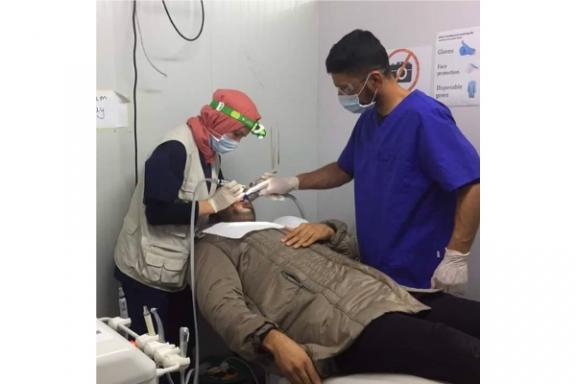 Profiling the Palestinian Dental Association's work to support refugees and migrants
In 2019, FDI awarded the Palestinian Dental Association with a Smile Award for its work to support the Health-Point Foundation, which provides urgently needed oral healthcare to people living in two migrant camps of Greece: one on Lesvos island and one in Athens. The Palestinian Dental Association supports the dental relief work of the Health-Point Foundation, which has set up a Dental-Point clinic to treat adults and children suffering from severe dental pain as well as dental and oral infections.
The Dental-Point clinic is the sole provider of dental treatment and other oral health services in the Moria camp on Lesvos island. In addition to providing emergency dental treatment, the clinic also offers oral health education sessions to demonstrate tooth-brushing techniques, provides dietary advice, and shows children how to take care of their oral health, especially in such difficult living conditions. The clinic regularly distributes toothpaste and toothbrushes, and volunteer oral health professionals apply fluoride gel and silver diamine fluoride to patients' teeth. The project aims to recruit even more oral health professionals to ensure a continuity of care throughout the year.
Another Palestinian foundation, Seeds of Humanity, also takes part in the joint project, providing support for refugees and sending volunteers to the two locations. The Smile Award has helped both foundations keep their missions running and treat patients wherever the need is. The foundations have built a strong relationship with the Greek Health Ministry, especially the Hellenic National Public Health Organization, which is responsible for public health support for refugees and other minority groups.
"Creating any project, it's not easy, as most of the funding goes to other medical (non-oral health) projects, even though there is an increasing need for dental care and oral health education. As the funding is a critical issue, I'm very grateful for the Smile Award, for FDI, and for everyone who has helped us make this work come true. Since the beginning of the project, thanks to the flexibility of our volunteers, we have been lucky enough to provide a continuous presence in our clinics."
DR AHMAD ABD EL GHANI, DENTAL-POINT PROJECT LEADER
So far, Dental-Point volunteers have delivered close to 250 treatments for patients from 2 years old to 65 years old. The treatments included medication, fillings, extractions, scaling and polishing, pulpotomy, dry socket, abscess drainage, as well as pulp extirpation. Last year, the clinic in the Moria camp received around 4,300 patients alone, which means approximately 80 to 85 patients per week, or 16 to 20 per day.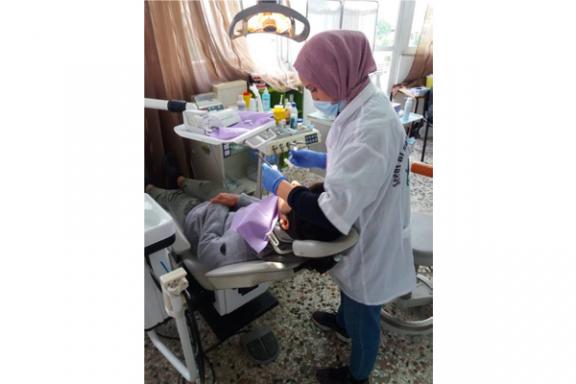 While the project aims to recruit even more oral health professionals to ensure a continuity of care throughout the year, the COVID-19 pandemic has halted the implementation of the planned third and fourth phases. Missions are currently suspended on the ground, and the dental clinics are closed to protect the staff and to avoid the risk of spreading the infection to the camps. However, the project continues to operate at a reduced capacity in the Health-Point Foundation medical clinic to provide antibiotics and pain relief for any dental emergencies.
Why does oral health for migrants matter?
In the United Nation's International Covenant on Economic, Social, and Cultural rights, all member states agreed that all categories of migrants should receive the highest attainable standard of physical and mental health1. This has not yet been achieved, especially when considering oral health. Furthermore, to achieve the goal outlined by the 2030 Agenda for Sustainable Development—to leave no one behind—the health needs of refugees and migrants should be addressed accordingly.
Poor health conditions and overcrowding are well-known facts in many migrant camps. As a highly vulnerable population, most refugees and migrants have a high prevalence of dental disease and unmet dental care needs2. Lack of financial resources, insufficient sanitation and hygiene facilities, over-reliance on emergency services, language and cultural barriers, and low oral health literacy can all contribute to poor oral health outcomes. 
FDI is also contributing to reducing the oral disease burden among refugees and migrants: In 2018, FDI launched the Refugee Oral Health Promotion and Care Project to gather data on different countries' experiences, solutions, and epidemiological data on providing oral care to refugees specifically. This data will then be synthesized to develop clinical, policy, and societal recommendations to ensure better oral health outcomes for refugee and migrant patients.
Smile Award application and eligibility requirements
The award serves to support and promote an original preventive oral care project at the local level. The award, valued at US$5000, recognizes FDI member national dental associations (NDAs) that are currently implementing innovative and sustainable community outreach projects to improve oral health outcomes in their countries.
The application due date for the next round of funding is 1 February 2021.
---
1 World Health Organization. Refugee and migrant health. [Internet] Available from: https://www.who.int/migrants/about/en/. [Accessed: 30 March 2020].
2 Cote S et al.Dental Caries of Refugee Children Compared With US Children. Pediatrics. 2004;114(6): e733–e740.
Find out more...