IADS Prophylaxis Officer Julien Issa reflects on success of World Oral Health Day in Lebanon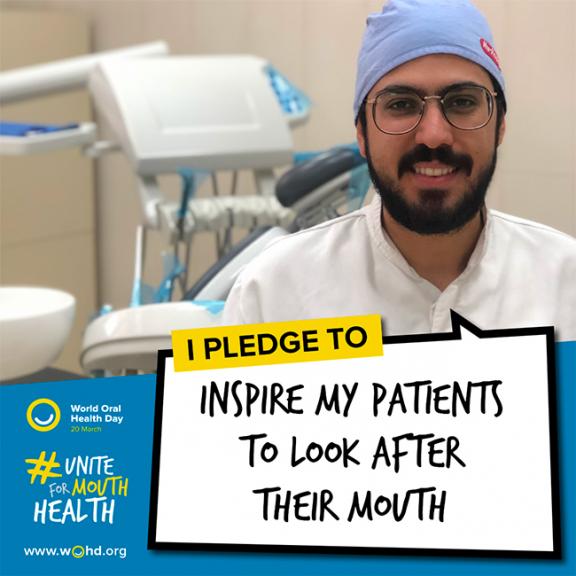 Julien Issa is a Lebanese dental student and the newly elected prophylaxis officer of the International Association of Dental Students (IADS). Wanting to harmonize his passion for science and art, Julien decided to embark on a career in dentistry. Through his studies and formative experiences at university, Julien has developed a steadfast commitment to preventive oral healthcare, or prophylaxis. He's also become the go-to World Oral Health Day enthusiast in his community.
FDI sat down with Julien to hear about his role in the success of the Lebanese Association of Dental Students' World Oral Health Day celebrations over the past two years. From dressing up as FDI's oral health mascot, Toothie, (yes, really!) and distributing toothbrushes far and wide, Julien shares his experiences and reflects on his goals for the 2020 Unite for Mouth Health campaign.
This interview has been edited for length and clarity.
To start, tell me a little bit about your background and how you got involved with IADS.
Before becoming the IADS Prophylaxis Officer, I was an active member of my local association, the Lebanese Association of Dental Students (LADS). I was a member for several years and prophylaxis was my main interest. World Oral Health Day activities were my number one priority (and still are today!) So, I built upon my enthusiasm for prophylaxis as a member, and then I was elected the national prophylaxis officer. In that role, I worked mainly on the LADS-organized 2018 World Oral Health Day campaign. This year, I was elected the prophylaxis officer of IADS. And that's me.
It's true that the Lebanese Association of Dental Students won the World Oral Health Day Award for Best Social Media Campaign in 2018 – what was your role in this achievement?
Yes, I was actually responsible for social media during the 2018 campaign.
Oh really? Tell me about that.
In 2018, I was one of the co-leaders organizing World Oral Health Day for LADS. I was also the LADS social media officer, so I worked together with the prophylaxis officer of LADS at that time to make everything perfect. Using the FDI-provided materials for World Oral Health Day really helped us to stand out and have amazing social media posts to compete with other associations for the World Oral Health Day Awards.
It's so valuable for us to have an on-the-ground perspective of World Oral Health Day. How did you engage with your local community? How did you organize yourselves?
The second time that LADS participated in World Oral Health Day activities was in 2018. A small group of us made a big effort to attract volunteers from our local association to participate, which, as you know, is kind of difficult, as we have a lot of exams and things to do as dental students. It was a challenge for us, but we made it.
If you say to my colleagues at university, "World Oral Health Day", they say, "Julien."
For the 2019 campaign, I re-created Toothie! I made Toothie to get kids excited about their oral health. Although in 2019, we didn't only focus on kids: we also focused on pregnant women. We ran a workshop, teaching them about how to take extra care of their oral health during pregnancy. We also did specific outreach activities for elderly people and people with special needs. And we tried to cover all of Lebanon, as much as possible from the south to the east. We visited schools, community centers, and even a refugee camp.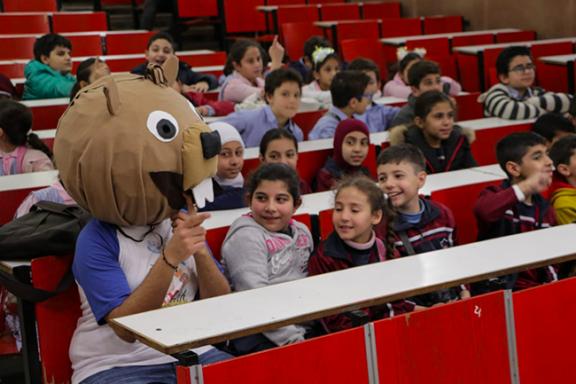 How did you choose the places where you targeted your actions?
The first thing we did was to read the member toolkit on the World Oral Health Day website. There were some points in the toolkit that really inspired us. For example, FDI suggested collaborating with other health professionals, so we reached out to a local medical association that was organizing their own event. We asked them if we could contribute an oral health element, and they agreed!
We also distributed World Oral Health Day posters in Arabic so people could have instructions at home on how to brush and floss daily. And we didn't focus only on brushing and flossing, we also focused on the importance of maintaining overall health, for example through regular exercise and eating healthy food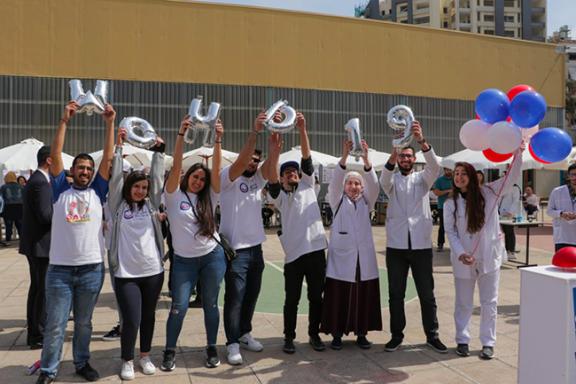 The 2020 campaign centers on a worldwide pledge campaign to Unite for Mouth Health. What do you think dental students should pledge for in 2020?
I will tell you what I think as a dental student and as a prophylaxis geek! As the IADS prophylaxis officer, I pledge to spread awareness about oral health as much as I can.
As a dental student, I pledge to motivate my patients, colleagues, and everyone I meet to take care of their oral health.
Why is World Oral Health Day important to you?
WOHD should not only be important for me, it should be important for all dental students. As dental students, we cannot practice dentistry outside of our university clinics. So we need to find other ways to spread awareness about oral health. World Oral Health Day is a great way to do this. I believe that prevention is better than treatment. Let's prevent before we treat caries or any other oral health problem.
What are your goals as this year's IADS prophylaxis officer?
I will do my best to motivate other student dental associations to participate in World Oral Health Day with the goal to increase the number of associations participating. I will support them, together with the entire prophylaxis team. We want to support our member associations to do and give more for World Oral Health Day 2020!
Submit your own event for World Oral Health Day 2020
Find out more...
World Oral Health Day is celebrated every year on 20 March. It is an international day to celebrate the benefits of a healthy mouth and to promote worldwide awareness of the issues around oral health and the importance of oral hygiene to looking after everyone old and young.