Celebrating the 2020 World Oral Health Day Award winners
World Oral Health Day (WOHD) is organized by FDI World Dental Federation (FDI) and is celebrated annually on 20 March. Each year, FDI recognizes outstanding contributions to this global awareness campaign through the WOHD Awards. FDI warmly congratulates all winners for their exemplary work and hopes that their efforts will inspire others to lead equally engaging campaigns of their own.
The award winners significantly contribute to the overall impact of the 2020 WOHD campaign, which hosted 302 events in 177 countries, engaged 27,000 people on social media, and achieved an impressive media reach of 1.9 billion. FDI also collected over 25,000 pledges worldwide.
The following awards were presented by FDI President Dr Gerhard K. Seeberger and WOHD Task Team Chair Prof. Paulo Melo during the virtual WOHD 2020 Awards Ceremony on 15 July.
2020 World Oral Health Day Award Winners
Most Educational Activity
Estonian Dental Association
In October 2019, the Estonian Dental Association (EHL) released Suukool's toothbrushing song created by the Estonian superstar, Eurovision singer and songwriter Stig Rästa. In six months, the song got more than one million views on YouTube.
Due to wonderful reviews, children's toothbrushing success stories, and to celebrate World Oral Health Day 2020, they released new versions of the Toothbrushing song in English and in Russian (26% of the Estonian population are Russians) on 20th of March.
To promote this song and other activities, the EHL did a social media campaign and media events on different TV channels, radios and newspapers. Due to the COVID-19 pandemic and special measures and restrictions, they could not make events that included people gatherings.
"Suukool" means "mouth school" in Estonian. The Suukool brand helps to gain better foothold in different age groups and to make caries prevention simple and fun.
Best Media Campaign
Hellenic Dental Association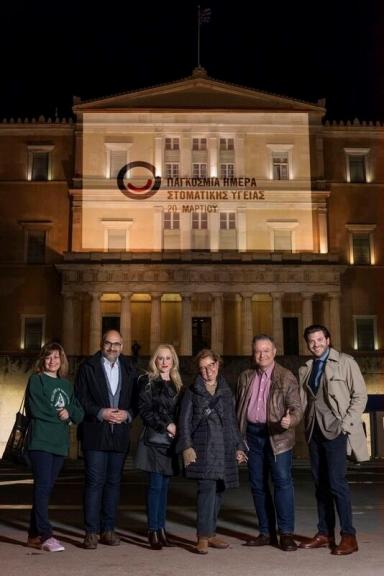 The Hellenic Dental Association's (EOO) initiatives were featured in various online, print, radio and TV media, despite the fact that many of the planned activities had to be cancelled, postponed, or rescheduled, due to the COVID-19 pandemic.
An interview of the EOO's President Mr. Athanasios Devliotis was conducted in the Dental magazine "ΟΔΟΝΤΙΑΤΡΙΚΟ ΒΗΜΑ". A press conference took place in Aegli, Zappeion Mansion, Athens, on March 12, 2020, in a live streaming form, with limited participation of journalists, due to the COVID-19 extraordinary measures. A model press release was available on the EOO's website. About five press releases were distributed by Regional Dental Societies to reach out to local media.
In addition, the EOO projected the WOHD logo (3D projection mapping) on the Hellenic Parliament building, placed the WOHD poster on the platform "infokids.gr" adapted the WOHD20 global campaign video in Greek.
Most Original Activity
National Medical Students State (HCCM) Russia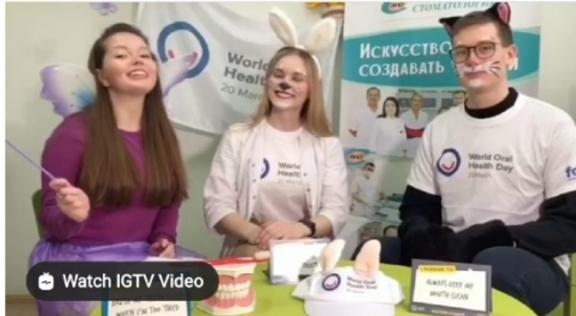 While at the national level the student association was involved in WOHD mostly with media events, one of their local members was able to make an event at a dental clinic before all public places were shut down on quarantine.
Ural State Medical University organized an event for children named "school of healthy habits" ("Школа здоровья") at a dental clinic where students often have practical classes. They made a performance to teach kids how to brush their teeth, played for them few dental themed cartoons, made a tour to dental office to tell about interesting tips dentist use during the work to show they're not scary at all :) and checked afterwards what they've learned in a quiz with presents for winners.
Ural State Medical University also released 2 video lessons for kids about oral care with students dressing as tooth fairy, rabbit, and cat. Also all of their universities - local members (1st Saint-Petersburg SMU, Ural SMU, Perm SMU, Samara SMU, Siberian SMU in Tomsk, Kirov SMU, Omsk SMU, Northwestern SMU) shared media posts about WOHD, made posters "I pledge to..." with online generator and also their own with a template, used official WOHD materials in media (mostly posters).
---
Best Social Media Campaign
Tanzania Dental Students Association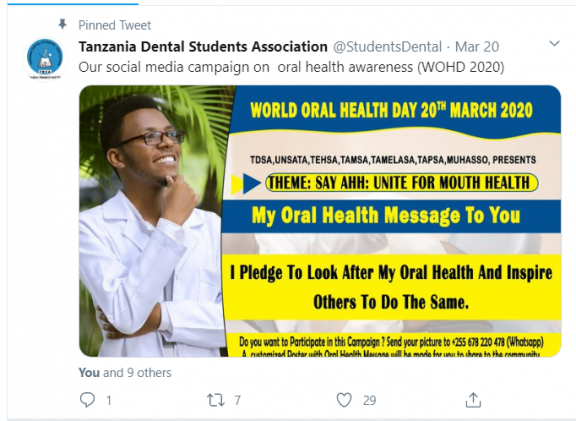 On the top of conducting an outreach activity at Kigamboni Primary School early February, the Tanzania Dental Students' Association (TDSA) ran an oral health awareness campaign on social media from the 15th to the 20th of March 2020.
With the aim of rising oral health awareness among Tanzanians, TDSA collaborated with several other students' associations, such as the Tanzania Medical Students Association, the Tanzania Pharmacy Students Association, the Tanzania Nursing Students Association and Muhimbili University of health and allied sciences.
They also wanted to involve including non-medical students, such as those from the Tanzania Dental Association Rotary club of young professionals and the Tanzania Environmental Students Association.
The campaign involved posting posters with oral health messages on Instagram, WhatsApp, Facebook, and Twitter. Messages were both in English and Swahili language. TDSA produced about 300 individual posters with different oral health messages.
---
Best Pledge Collection
Philippine Dental Association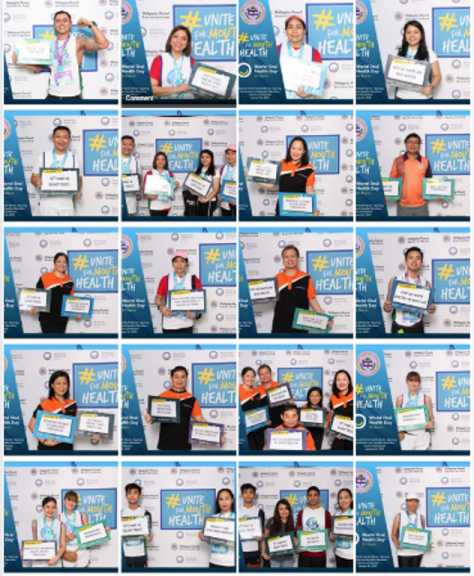 The Philippine Dental Association (PDA) organized photo booths during several of their key events, such as the PDA House of Delegates session (November 15, 2019), the PDA Mega Luzon Convention (November 25 - 27, 2019), the AquaRun Marathon and Opening of National Dental Health Month (January 18, 2020), as well as the Philippine Dental Student's Association Convention (January 18, 2020).
Photo booths had an immensely positive impact towards the young and old age groups alike. It encouraged people to join and make a pledge for better oral and general health practices. Additionally, the photos motivated the participants to grab and post the photos on their social media pages, thus increasing the social media reach of the WOHD campaign.
Finally, the Philippine Dental Student's Association collected pledges from a professional basketball player and an actor.
The PDA collected about 2,000 pledges in total.
Best Branded Photo
Shenzhen Hospital of Southern Medical University Stomatology Center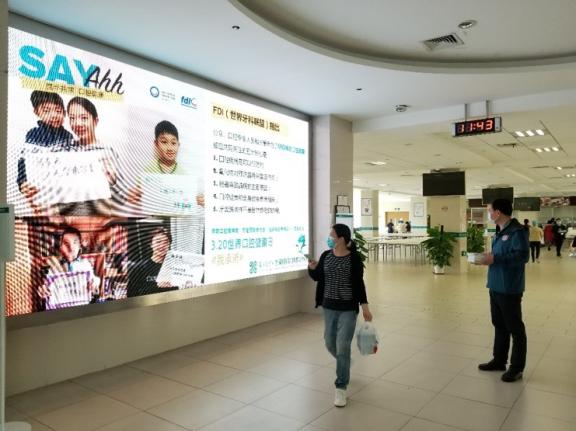 The Stomatology Center of Shenzhen Hospital, Southern Medical University, adapted the WOHD20 poster and displayed it with activity information on several LED display screens of Shenzhen Hospital, Southern Medical University on 20 March.
In addition, they distributed free oral health educational manuals and World Oral Health Day leaflets to the public to popularize the knowledge of oral health protection.
In total, about 500 members of the public and primary school students came to the hospital that day. The objective was to educate them and make them participate in fun activities.
In addition, the same information was also published on the official social media (WeChat) account of the Stomatology Center, Shenzhen Hospital, Southern Medical University.
The hospital partnered with the Chinese Stomatological Association (CSA) and several primary schools.
Ready for next year's campaign? Stay tuned for WOHD 2021 and how you can get involved: www.worldoralhealthday.org
World Oral Health Day is celebrated every year on 20 March. It is an international day to celebrate the benefits of a healthy mouth and to promote worldwide awareness of the issues around oral health and the importance of oral hygiene to looking after everyone old and young.