A healthier future means tackling shared risk factors for oral disease and obesity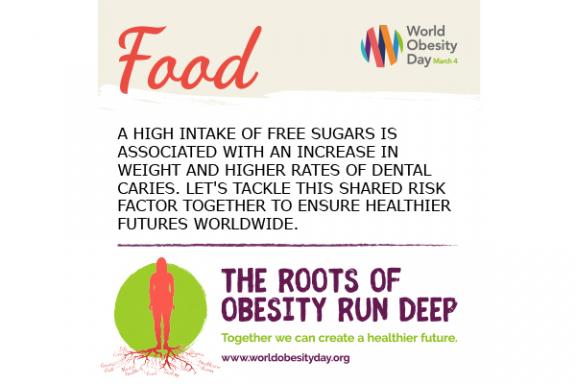 March 4 marks World Obesity Day, which calls for more comprehensive solutions, treatment, and collective responsibility for addressing this global epidemic. Together, we can address the far reaching personal, societal, and economic impacts of obesity and other chronic diseases.
People with obesity are constantly shamed and blamed for their disease. This is because many people – including doctors, policymakers, and others – do not understand that obesity is a chronic, noncommunicable disease (NCD). They see it as a simple lack of willpower, laziness, or a refusal to "eat less and move more." But like all chronic diseases the root causes of obesity run much deeper. The causes can be genetic, psychological, sociocultural, economic, and environmental. It is time we break the cycle of shame and blame and re-evaluate the approach for addressing this complex, chronic disease that affects 650 million people worldwide.
Oral disease and obesity: a united response to address shared risk factors
According to the World Obesity Federation, obesity rates across the world have increased in the last two decades in nearly all age groups. By 2025 it is estimated that 2.7 billion adults and 268 million school-age children will be overweight or obese.
Obesity prevention efforts, like efforts to prevent other NCDs, should not only be targeted at individual actions but also at wider commercial and societal determinants. As part of the global response to combat NCDs, both FDI and the World Obesity Federation support the World Health Organization 'Best Buy' policies, particularly those policies that address the commercial determinants of health. 
As many chronic diseases share the same risk factors (high consumption of free sugars is an important risk factor for both oral disease and obesity), a unified response within the global health community is necessary to ensure a comprehensive response. A unified strategy is necessary to build commitment for action and make oral health and obesity priorities in global public health and development agendas.
Strategies to combat oral disease and obesity together
A high intake of free sugars – all sugars added to foods by the manufacturer, cook or consumer, and sugars naturally present in honey, syrups, fruit juices and fruit juice concentrates – is associated with an increase in weight and higher rates of dental caries.
In order to reduce rates of oral disease and obesity, FDI encourages policymakers around the world to prioritize population-based fiscal measures, as well as better food and nutrition labelling, consumer education, and marketing regulation for food and non-alcoholic beverages high in free sugars. 
Fiscal interventions, such as taxation of sugar-sweetened beverages, will be a valuable tool as these are win-win interventions that promote health and support the financing of further NCD activities. Whether the focus is on tackling obesity or oral disease, taxation of sugar-sweetened beverages is a first step toward healthier futures for all of us.
Find out more...