As COVID-19 shifts learning online, FDI supports parents and teachers with digital resources on oral health education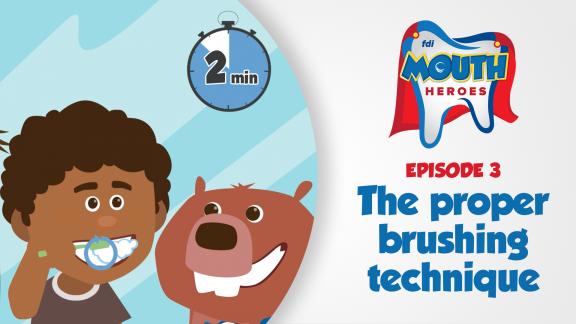 More than 50 million school hours are lost each year because of poor oral health. Through Mouth Heroes for Schools, FDI World Dental Federation supports teachers to integrate oral health into their lesson plans, with the aim to drive positive change and have healthier, happier children inside and outside the classroom.
Mouth Heroes seeks to positively engage children by giving teachers all the tools they need to deliver engaging lessons about the importance of good oral health. This educational resource includes a teacher guide and lesson plans, which include videos, worksheets, PowerPoint presentations and certificates.
Mouth Heroes informs and entertains children while raising awareness about good oral health. Learning oral hygiene habits at an early age encourages kids to prioritize their oral health into adulthood and beyond. By the end of their Mouth Heroes work, children will understand how to take care of their mouth, beware of certain foods that can harm their teeth and body, take more responsibility for their own oral health and feel empowered to practice healthy behaviours – now and in the future.
Digital education is more important than ever
The COVID-19 pandemic has forced schools around the globe to adjust their lesson plans and prioritize online learning. According to UNESCO monitoring, over 160 countries have implemented nationwide closures during the pandemic, impacting over 87% of the world's student population. The United Nations says more than 770 million learners worldwide have been affected by school and university closures1.
Mouth Heroes is available on FDI's website to download and is easy to use, both digitally and in print.  Mouth Heroes provides teachers with the tools to give oral health lessons that can be applied as part of online learning or efficiently used by parents at home during school closures.
Learning and applying good personal hygiene is especially relevant today. Oral hygiene habits go hand in hand with other hygiene basics for children and adults alike, such as frequent hand washing and covering the mouth when coughing. Support children to develop lifelong oral health education by downloading the free Mouth Heroes resources today.  
References