FDI offers funding for innovative oral health projects around the world: Apply by 15 June
FDI is now accepting applications for the World Dental Development Fund (WDDF), supporting innovative oral health initiatives in communities all around the world. The fund backs projects with clear objectives to promote and improve oral health and prevent oral diseases in limited-income areas with oral health needs.
Don't delay - applications are due by 15 June 2019.
Who can apply for World Dental Development Fund support?
FDI welcomes applicants from within and outside its network. WDDF funding is available to non- FDI members in addition to FDI Regular and Associate members. To be eligible for funding, non-members must obtain written support from an FDI Regular or Associate member in their country.
FDI encourages all who are interested to apply. Previous applicants have included ministries of health, National Dental Associations, non-governmental organizations, and universities.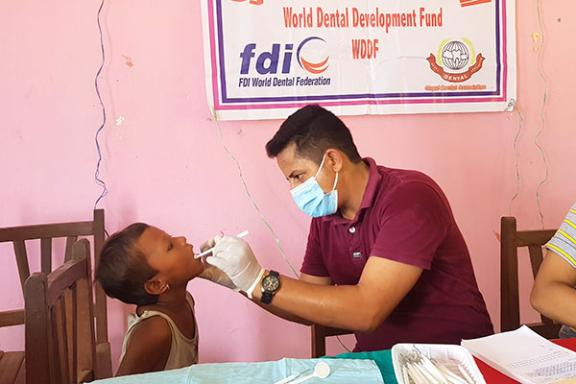 Educational and sustainable oral health projects
FDI seeks projects that are designed to benefit individuals and communities with demonstrated oral health needs. Projects should complement local, regional or national strategic health aims within the country; they should also be developed in consultation with local authorities and stakeholders.
FDI will give priority to projects with a prominent educational component and promising potential for long-term sustainability. Projects should focus on at least one of the following topics:
disease prevention and/or eradication
education
oral health promotion
primary health care
2018 World Dental Development Fund recipients
Oral Health: Well mother, well baby in Kenya
This project is dedicated to better oral health outcomes for young children and pregnant women. It develops materials on oral health education and oral disease prevention specifically targeted for children under the age of 5 and pregnant women who visit Maternal and Child Health clinics in Uasin-Gishu County in western Kenya.
Oral Health Protection for the Ngäbe-Buglé Indigenous Community in Costa Rica
This project promotes oral health among the Ngäbe-Buglé indigenous population in a way that respects their traditions and cultural beliefs. The project organizes educational workshops on oral health for this indigenous community, located in Coto Brus in southern Costa Rica.
Find out more...
---
WDDF funding is available to FDI Regular and Associate members in good standing as well as non-members of FDI.