WHO's Executive Board approves the draft global oral health strategy
FDI celebrates the WHO Executive Board's approval of the draft global oral health strategy and looks forward to its formal adoption at the World Health Assembly in May.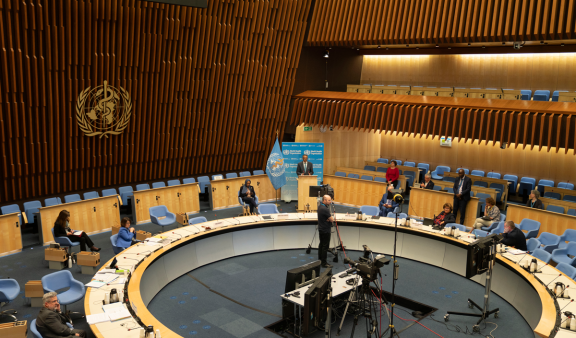 FDI celebrates the WHO Executive Board's recommendation to the 75th World Health Assembly (WHA75) that the draft global oral health strategy be approved, in May 2022.
The 150th session of WHO's Executive Board (EB150) was held from 24 to 29 January 2022 to discuss the updated version of the global strategy on oral health (EB150/7, Annex 3), which incorporated many recommendations made by FDI in our joint response with 65 organizations, including the addition of a new strategic objective on the health workforce.
Recommendations consisted of calling for the inclusion of oral health considerations in several agenda items, namely in other documents as follow-up to the Political Declaration of the 3rd high-level meeting on the prevention and control of noncommunicable diseases (NCDs) (agenda item 7); Strengthening WHO preparedness for and response to health emergencies (agenda item 15.1); and Maternal, infant and young child nutrition (agenda item 17).
The updated global strategy on oral health was approved unanimously
The WHO's Executive Board welcomed the updated draft global strategy on oral health and unanimously recommended it to be approved by the World Health Assembly in May. Many Member States showed their support during the discussions. The EU statement reiterated the importance of oral health for general health, the need to shift towards prevention in oral healthcare, called for oral health integration within primary healthcare, and monitoring and surveillance to be reinforced to ensure successful implementation.
The African region statement delivered by Botswana referred to the growing burden of oral diseases in the region. They urged WHO to consider noma as a neglected tropical disease (NTD), to fully integrate oral health within the NCD, universal health coverage (UHC), and environment agendas, and to support standardized data and community-level access for oral health services. As stressed by WHO's Deputy Director-General, Zsuzsanna Jakab, "oral health has been long overlooked, and this strategy sets a pathway for oral health to be fully integrated within the NCD response".
FDI shared a series of recommendations for the updated global strategy on oral health
FDI commended the draft global strategy on oral health as it asks and guides Member States on how to integrate oral health within UHC structures, reiterating the essentiality of oral health services for individuals and communities, and presenting oral health as a fundamental human right. However, in our statement, we asked for the following considerations:
WHO recognizes professional bodies as members of civil society and must correctly classify national dental associations and other health professional bodies as such within the strategy.

The new strategic objective on health workforce needs to

address how current payment system models for oral health providers can be reformed to encourage a shift towards prevention in oral healthcare.

Poor oral health can be further emphasized as a risk factor in itself

given its impact on other NCDs and treatment outcomes, making the case for integration and interprofessional collaboration more explicitly.

WHO should reconsider the prevalence of clefts of the lip and/or palate to be 1 in 700 births; reflect clefts' many risk factors: such as tobacco and alcohol use, exposure to certain chemicals and medications, and poor nutrition during pregnancy; and present clefts as severe conditions, leading to high rates of infant mortality in settings with no timely access to quality surgery.
Read FDI's statement on the global oral health strategy
The oral health strategy was discussed as part of a broader and ambitious NCD agenda
In addition to the draft global strategy on oral health, there were more documents on NCDs to be discussed and considered for approval as part of agenda item 7. These included Annex 1 as the draft outline of the future NCD implementation road map 2023-2030 for the global action plan for NCD prevention and control; Annex 2 on the draft recommendations to strengthen and monitor diabetes responses within national NCD programmes, including potential targets; Annex 8 on the draft action plan (2022–2030) to effectively implement the global strategy to reduce the harmful use of alcohol as a public health priority; and Annex 9on the draft recommendations for the prevention and management of obesity over the life course, including potential targets.
Go to EB150 decision approving NCD documents
FDI provided input into all relevant agenda items and supported statements, where feasible.
Stay tuned for a full recap to be published in a separate article.   
Would you like to stay informed of all the latest advocacy and policy news? Sign up to our quarterly newsletter here.
Do you have any questions? Let us know at advocacy@fdiworlddental.org.