What are the implications of the Monkeypox outbreak for dental practice? Discover now
Dentists may be the first to recognize a patient with monkeypox, as oral ulcers are the primary manifestation in over 25% of the cases. Additionally, as always, dentists must implement strict standard infection control measures to obviate viral spread via contact and aerosol transmission.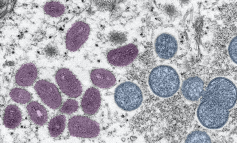 In late July, the World Health Organization (WHO) declared the monkeypox (MPX) outbreak as a public health emergency of international concern. Undoubtedly, this has left many questions in the minds of healthcare workers, including oral healthcare professionals, about its consequences on their practice and providing care. A recent article in the International Dental Journal (IDJ) therefore explores the implications of this particular outbreak for dental practice. Learn more through this interview with IDJ Editor-in-Chief, Prof. Lakshman Samaranayake.
Can you please elaborate on how monkeypox can affect oral health professionals in their practice?
The major mode of MPX spread in dentistry is through direct or indirect contact with body fluids, or material from oral lesions or skin pustules; aerosol transmission is also a possibility. However, MPX transmission in the dental clinic is unlikely if standard infection prevention and control precautions are strictly followed. The latter include wearing N95 masks, fluid-resistant attire, and eye protection. Besides, all dental personnel should remain vigilant and be prepared to manage patients who may present wittingly or unwittingly with orofacial or other symptoms of MPX. A good strategic plan on how best to manage such patients would include measures to isolate and treat the patient in a confined clinical area, appropriate disposal of patient contact material, elective treatment, if feasible, and subsequent tele-consultation, and finally, the cognizance of referral routes/clinics in the area for the medical management of MPX patients.
Do you believe there is enough information available for oral health professionals to identify and report this disease?
Yes, I believe so. The Centers for Diseases Control and Prevention (CDC) guidelines in the US as well asstandard infection prevention and control precautions recommended in the National Integrated Food Security Phase Classification (IPC) Manual of England, are excellent, freely available resource documents for all dental personnel. Besides articles such as those in IDJ, referred to above, that are particularly focused on MPX and dentistry should be helpful.
What measures can dentists and their teams take to lessen the risk of infection?
As mentioned above, all dentists particularly in disease prevalent or endemic areas should educate the dental team on the clinical features of MPX, and how it may spread in the clinic. In particular, standard infection control including droplet precautions, must be always implemented and strictly adhered to.
It is also essential to have a strategic plan for manging MPX patients who may present in the clinic either with orofacial or other symptoms of the disease. For instance, the whole dental team should know how to manage such patients on presentation, such as seating them in an enclosed area until treatment, and treating them in a restricted clinical area, if at all possible, and deferring non-emergency treatment until MPX symptoms abate together with teledentistry post visit consultations. 
How can oral health professionals help identify monkeypox in patients early on, especially in disease-endemic countries?
Noteworthy from a dental context is that the primary presentation of MPX is likely to be on the oral mucosa as pink macules or papules. Oral ulcers have been recorded in almost one-quarter of MPX patients, in some studies. Nevertheless, papules (or indeed vesicles) are infrequently seen intraorally as they immediately burst due to tongue movements and chewing, with a residual crateriform red lesion formation. Due to these reasons the dentist may be the first to note the eruptions during routine examination of the oral mucosa, particularly because the patient, may be unaware of their existence as the lesions are not painful in the early macula/papular phase. Hence a high degree of vigilance should be maintained by dentists when examining patients, particularly in disease endemic areas. Finally, the good news is that the current outbreak may be plateauing in most of the Western countries and the disease may gradually wane in the fulness of time.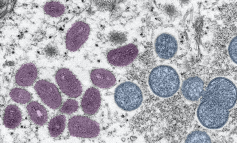 Figure 1: A pseudo colour, electron micrograph showing mature, oval, mulberry-shaped monkeypox virus particles (pink) and the immature particles (blue) from a skin lesion of a patient with monkeypox. (Photo credit: Cynthia S. Goldsmith, Russell Regnery; Courtesy CDC Image library.)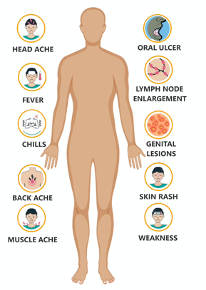 Figure 2: Characteristics signs and symptoms of monkeypox.
(image courtesy of Prof S Anil)