Toothy Tigers: encouraging good oral hygiene habits across communities
FDI and Toothy Tigers team up to produce age-specific leaflets, targeted at people born with cleft, their families and caregivers. Read and share.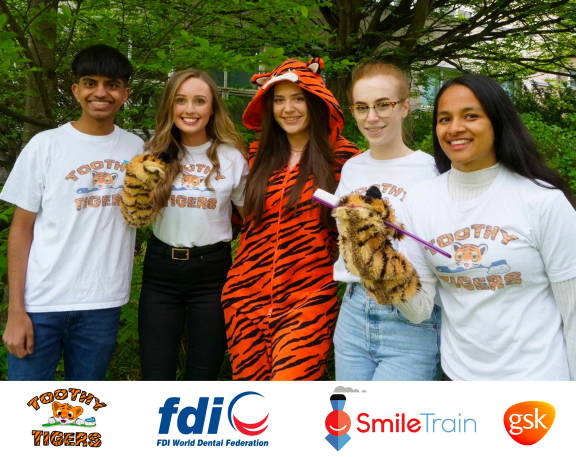 Globally, 1 in 700 children are born with a cleft lip and/or palate (cleft), which can cause significant difficulties to eat, breath, hear, and speak. In addition, cleft patients often suffer from tooth decay, gingivitis, and other oral diseases. Even children who undergo cleft surgery are often at an increased risk for caries, periodontal disease, and other oral health issues. That is why, it is essential to raise awareness about the importance of adequate dental care and good oral health habits for patients with cleft from a young age.  FDI and oral health non-profit Smile Train therefore, worked together to support the development of resources for patients with cleft through FDI's Oral Health in Comprehensive Cleft Care project.
Teaming up with Toothy Tigers
Led by Prof. Peter Mossey, FDI's Oral Health in Comprehensive Cleft Care Task Team teamed up with the Dundee University Dental School students, called "Toothy Tigers", to produce age-specific leaflets for people born with cleft as well as their families and caregivers. A total of five leaflets have been developed for age groups ranging from 0 to 18+ that provide tips on preventing oral diseases such as reducing the frequency and amount of sugar consumed and visiting the dentist regularly. They also offer advice on cultivating good oral hygiene habits from a young age such as brushing teeth twice daily, using a toothpaste with fluoride, and flossing every day.
Recently Toothy Tigers, whose aim is to educate children about the value of their oral health, were recently selected to present posters showcasing their contribution to the cleft care leaflets during two events, including at the National Education for Scotland virtual conference in April 2022. They also provided children with guidance on how to maintain good oral hygiene as well as dietary tips, during educational oral health workshops.
Two organizations with a combined goal
FDI and Toothy Tigers believe it is crucial to educate, guide and encourage children to adopt positive habits from their youngest years to reduce dental fear and set in motion good oral health practices for life. FDI encourages everyone to use the leaflets to either learn about cleft care or to educate patients with cleft, their families and caregivers about the importance of taking care of their mouth to live with a healthy smile.
The Oral health in comprehensive cleft care project is supported by GSK