Seven key oral health messages to remember ahead of World Oral Health Day on 20 March
World Oral Health Day is only a couple weeks away. Everyone can help address the oral disease burden by sharing these seven key messages about good oral health at every stage of life.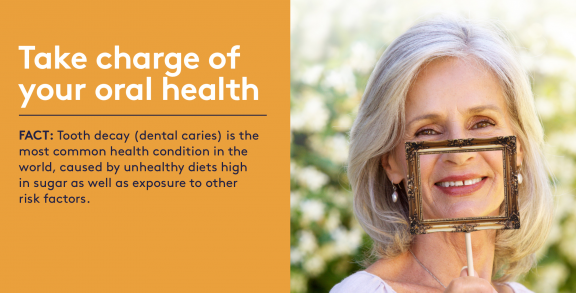 The official theme of the 2021 World Oral Health Day (WOHD) campaign is Be Proud of Your Mouth. This year, we want to inspire change by focusing on the importance of oral health for overall health, because good oral health can help you live a longer, healthier life. Discover these downloadable key message cards to support your WOHD activities, whether they be online or in person this year. And remember: be sure to add your activity (big or small!) to our Map of Activities here.
LOOK AFTER ORAL HEALTH FOR OVERALL HEALTH
Just like other major diseases, prevention, early detection and treatment of oral diseases is important to stop any negative effects on the rest of your body.
PROTECT YOUR MOUTH WHILE YOU'RE ON THE GO
Chewing sugar-free gum is proven to benefit dental health as it helps neutralize plaque acids.
LEARN GOOD ORAL HEALTH HABITS FROM TOOTHIE (for children)
It is important to look after your teeth and mouth because germs can cause toothache, tooth decay (dental caries) and holes in your teeth.
TAKE CHARGE OF YOUR ORAL HEALTH
Tooth decay (dental caries) is the most common health condition in the world, caused by unhealthy diets high in sugar as well as exposure to other risk factors.
EAT A BALANCED, LOW-SUGAR DIET
Eating excessive amounts of sugar from drinks, snacks, and processed foods not only causes tooth decay (dental caries), but also contributes to obesity and increases the risk of diabetes.
PRACTICE A GOOD ORAL HYGIENE ROUTINE
Oral diseases, such as tooth decay (dental caries) and gum disease, can impact every aspect of life, from relationships and self-confidence through to school, work and the ability to interact with others. Oral diseases are preventable, though, so it's important to practice a good oral hygiene routine every day.
VISIT THE DENTIST REGULARLY
Oral diseases affect nearly 3.5 billion people and are often linked to other serious health issues. These diseases often lead to pain, discomfort, social isolation, loss of self-confidence, and lost hours at work or school, too.
WHY CELEBRATE WORLD ORAL HEALTH DAY?
World Oral Health Day is celebrated every year on 20 March. The WOHD campaign provides an ideal platform to raise awareness and encourage commitments and action to promote good oral health. By leveraging thoughtfully coordinated efforts at the local, national, and global levels, the voice of the oral health community can be amplified in the lead-up to WOHD every year.
The growing burden of oral disease demands action on every level: individual, family and community. FDI is confident that simple, targeted action has the power to curb the prevalence of oral diseases and make oral health a personal priority for all.