Regular dental check-ups for healthy gums may help manage type 2 diabetes
A recent study published in The Lancet: Diabetes & Endocrinology suggests that regular dental check-ups and treatment of periodontitis may contribute to effective management of type 2 diabetes. The study was funded by Diabetes UK and the UK National Institute for Health Research.
Periodontitis is a chronic inflammation of the gums that destroys tooth-supporting tissues and bone and can rapidly lead to tooth loss. The World Health Organization defines diabetes as a chronic disease that occurs either when the pancreas does not produce enough insulin or when the body cannot effectively use the insulin it produces. Insulin is a hormone that regulates blood sugar. A raised level of blood sugar is a common effect of uncontrolled diabetes.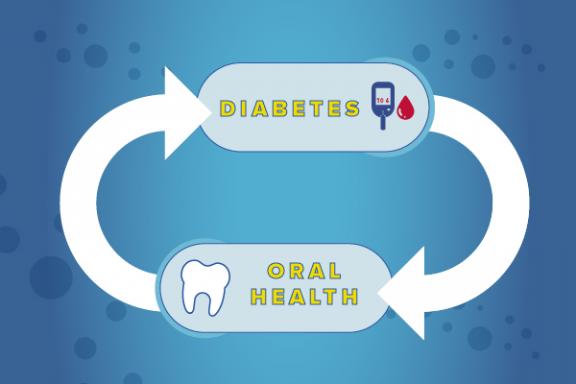 Diabetes and periodontal disease have a two-way relationship: in general, people with diabetes have an increased risk of developing periodontal disease, and treatment of periodontal disease often improves blood glucose levels. The Lancet study further illustrates this link.
According to Diabetes UK, people with diabetes are more likely to develop dental problems than people who don't have diabetes: too much sugar in the blood can lead to more sugar in saliva - this sugar then contributes to tooth decay and periodontal disease. High blood sugar levels can also harm the blood vessels in the gums, making them more likely to get infected.
About the study
264 people from the UK participated in the study: all of them had type 2 diabetes and periodontitis. About half of the participants received control periodontal treatment (CPT) every three months for a year. The other participants received intensive periodontal treatment (IPT), a more complete and involved level of periodontal care, just as often as the CPT group.
After 12 months, intensive periodontal treatment (IPT) significantly reduced average blood sugar levels in patients with type 2 diabetes and moderate-to-severe periodontitis.
This finding underlines the benefit of treating oral diseases and other NCDs in an integrated, holistic way. Effective regional and national strategies to promote oral health and prevent oral diseases show population-wide improvement of oral health can contribute to preventing the leading NCDs, including diabetes.
FDI promotes periodontal health
Periodontal disease affects up to 50% of the adult population worldwide. It has a significant socio-economic impact on governments and populations worldwide, yet it remains a low priority health concern and treatment is still unavailable in many countries.
FDI's Global Periodontal Health Project (GPHP) was developed to reduce the burden of periodontal disease by raising awareness of its impact and engaging the public, oral health and other health professionals, educators, and policymakers in promoting periodontal health. GPHP provides tools and resources to raise the priority of periodontal health at the national and international level.
Find out more...
The Global Periodontal Health Project raises awareness of periodontal disease and provides practical tools to engage the public, health professionals and policymakers to help reduce the burden.