International Dental Journal
04/01/2022
Read the April issue of the International Dental Journal
Read the latest issue of the International Dental Journal, featuring curated article collections on World Oral Health Day and COVID-19.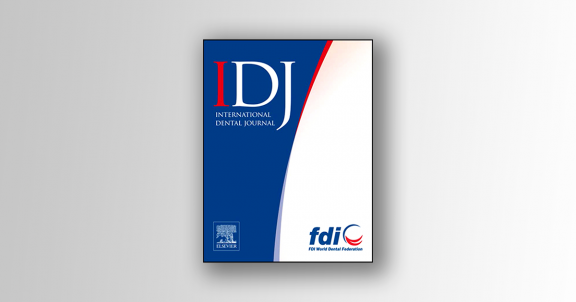 Explore the April issue of the International Dental Journal (IDJ) highlighting the important connections between oral health and emotional, social and mental well-being, through a article collection curated by IDJ Editor-in-Chief, Prof. Lakshman Samaranayake, for World Oral Health Day. Additionally, learn more about the relationship between oral health and COVID-19.
The IDJ is the official scientific journal of FDI. Published every two months, IDJ features peer-reviewed articles relevant to oral health issues worldwide. These focus on international public health, practice-related research, and inter-professional education and practice.
Read the April Issue
Editorial
Editorial by IDJ Editor-in-Chief, Prof. Lakshman Samaranayake
Commentary
Caring for the Neck and Posture in Dentistry: Better Late Than Never
Elif Ballikaya, Murat Kara, Levent Özçakar
Oral Health, Mental Health and Quality of Life
Job Satisfaction and Perceived Importance of Oral Medicine Amongst Dentists
Marie Naito, Nao Suzuki, Atsushi Shimazu, Naoko Yatabe, ... Takashi Hanioka
Questionnaire Survey of Burnout Amongst Dentists in Singapore
Surinder Arora, Alec Knight
Provision of Oral Health Care by Dentists to Community-Dwelling Older Patients
Pieternella C. Bots-VantSpijker, Claar D. van der Maarel-Wierink, Jos M.G.A. Schols, Josef J.M. Bruers
Dental Anxiety Amongst Pregnant Women: Relationship With Dental Attendance and Sociodemographic Factors
Soha AlRatroot, Gadah Alotaibi, Fai AlBishi, Shahd Khan, Muhammad Ashraf Nazir
Oral Health of Older Patients in Dental Practice: An Exploratory Study
Pieternella C. Bots-VantSpijker, Claar D. van der Maarel-Wierink, Jos M.G.A. Schols, Josef J.M. Bruers
Life Satisfaction of US-trained Dental Specialists in Taiwan
Martin M. Fu, Rebecca Y. Chen, Min-Wen Fu, Huan-Chen Kao, ... Tony Szu-Hsien Lee
COVID-19
A Review of Aerosol Generation Mitigation in International Dental Guidance
Clare Robertson, Jan E. Clarkson, Magaly Aceves-Martins, Craig R. Ramsay, ... Thibault Colloc
Investigation of the Presence of SARS-CoV-2 in Aerosol After Dental Treatment
Hakan Akin, Oguz Karabay, Hande Toptan, Halit Furuncuoglu, ... Mehmet Koroglu
Dentists' Perceptions of Their SARS-CoV-2 Risk and Infection Control Needs
Leonor Sánchez-Pérez, Dámaris Sosa de Antuñano, Bernardo Perea-Pérez, Elena Labajo-González, A. Enrique Acosta-Gio
COVID-19 Morbidity Among Oral Health Professionals in Brazil
Raquel Conceição Ferreira, Viviane Elisângela Gomes, Najara Barbosa da Rocha, Lorrany Gabriela Rodrigues, ... Gizelton Pereira Alencar
The Impact of COVID-19 on Dentistry in Yichang, China, and Protective Suggestions for Normalisation of Epidemic Prevention
Suli Zhao, Rongcan Sun, Huaizhou Yu, Jing Cao, Lin Zhang
A Retrospective Study of Oral Emergency Services During COVID-19
Hua-Qiu Guo, Tao Xu, Jie Pan, Ai-Ping Ji, ... Jie Bai
Nurses' Perceptions of Oral Health Care Provision After the COVID-19 Lockdown
Satoru Haresaku, Hisae Aoki, Keiko Kubota, Fuyuko Nakashima, ... Toru Naito
Prevalence of Anosmia or Ageusia in Patients With COVID-19 Among United Arab Emirates Population
Natheer H. Al-Rawi, Ayat R. Sammouda, Eman A. AlRahin, Fatma A. Al Ali, ... Ahmed S. Al Nuaimi
Letters to the Editor
About Assessment of Carotid Artery Calcifications on Radiographs
Pietra Rodrigues Antonello, Thiago de Oliveira Gamba, Heraldo Luís Dias da Silveira
Letter to the Editor: Authors' Response
Mehtap Bilgin Cetin, Yasemin Sezgin, Mediha Nur Nişancı Yılmaz, Cansu Köseoǧlu Seçgin
Want to submit an article?
Read the Guide for Authors and submit today.