Optimizing oral function for healthy ageing: Register for the upcoming CE-accredited webinar
In this upcoming webinar, taking place on 23 June, learn how maintaining oral function can benefit healthy ageing and improve the quality of life of older adults.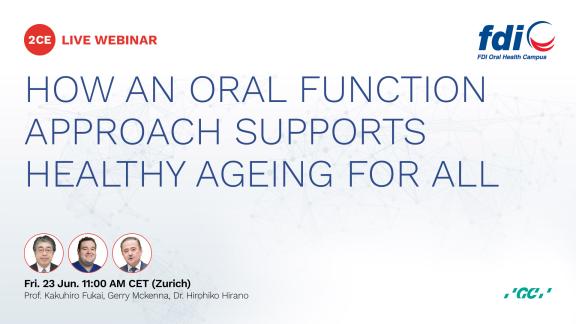 Population ageing has a profound global impact. The World Health Organization (WHO) predicts that by 2030, one in six people in the world will be aged 60 years or over. As people age, they become more susceptible to diseases and experience a decline in bodily functions, which greatly affects their quality of life (QOL) and overall health. Maintaining good dental and oral health is crucial for lifelong QOL and has been shown to contribute to overall health improvement.
As part of its Oral Health for an Ageing Population (OHAP) project, FDI is hosting a webinar aimed at promoting awareness about the importance of oral health for achieving healthy longevity.
 
Register for the webinar taking place on 23 June to learn how an oral function-focused approach supports healthy ageing for all.
Join us on 23 June at 11:00 AM CEST on the FDI Oral Health Campus for a Continuing Education (CE) accredited webinar featuring renowned oral health experts and discover how an oral function-focused approach promotes healthy ageing, enabling people to not only live longer lives but healthier ones too.
Amidst rapid population ageing, oral health has an essential role to play in achieving a healthy ageing society, particularly to prevent noncommunicable diseases and frailty. It is therefore imperative that access to high-quality oral health services is provided to all persons and communities, regardless of socioeconomic status.
In the webinar's first presentation, Prof. Kakuhiro Fukai will present an oral function-focused approach to foster a healthy ageing society. Additionally, Prof. Fukai will delve into the details of the new phase of FDI's OHAP project.
The second presentation of this webinar by Dr Hirohiko Hirano will focus on the importance of the management of oral function in the ageing population. With a renewed focus on eating abilities in the ageing population, new concepts referred to as oral frailty and oral hypofunction have been introduced in Japan. Oral frailty highlights the important message that a slight decline in oral functions can easily lead to adverse health outcomes such as sarcopenia and physical frailty and a further decline in oral functions.
Building on these lectures, Prof. Gerry McKenna will deliver the final presentation focusing on clinical and community approaches to the prevention of oral function decline in older persons according to their level of dependency. Following this presentation, there will be a discussion involving all the webinar speakers.
Seize this exceptional opportunity to earn CE credits while discovering the profound impact of maintaining oral function on healthy ageing and enhancing the quality of life for older adults.
About Oral Health for an Ageing Population
The OHAP project was launched in 2015 to strengthen the role of the oral health community in achieving healthy longevity. The project pushes for oral health challenges to be addressed in broader disease policies and health promotion strategies for ageing populations. OHAP aims to ensure that people not only live longer lives but healthier ones too, free of oral diseases, to secure their overall health and well-being. 
 
The OHAP project is supported by GC.