Nairobi Declaration: tackling the dental fluorosis issue in the East Africa region
Five East African FDI members come together and produce the Nairobi Declaration to tackle the burden of dental fluorosis in the region.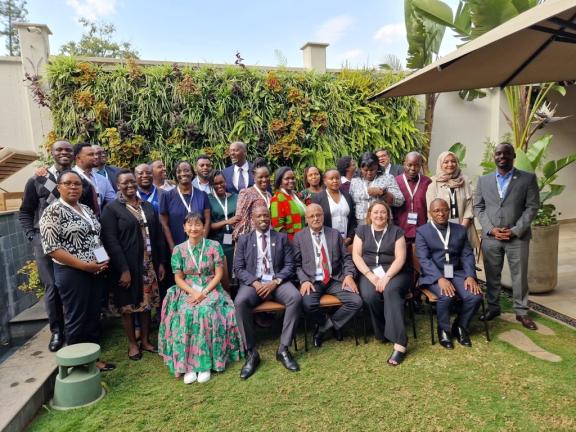 Inadequate or excess consumption of fluoride often occurs through the consumption of groundwater naturally rich in fluoride1 and is increasingly becoming a major public health concern. To address this issue, FDI organized a workshop on 31st July and 1st August 2023. During this event, five member national dental associations (NDAs) from the East Africa region came together to discuss the burden of dental fluorosis and develop a strategy to tackle this collaboratively.
 
Tackling dental fluorosis in the East Africa region
In 2015, the prevalence of dental fluorosis in children in Kenya hit 41.4% with conditions varying from high to low. 2 This problem isn't unique to Kenya; it's a significant challenge across various countries and regions around the world. To tackle this issue head-on, FDI and the Kenya Dental Association hosted jointly a roundtable that was attended by representatives from the Tanzania Dental Association, Association Rwandaise des Chirurgiens-Dentistes et Stomatologues, Uganda Dental Association and supported remotely by the Somali Dental Association. In addition, representatives from the World Health Organization, Chief Dental Officers and academics experts lent their insights.
Dr Douglas Oramis, Secretary-General of the Kenya Dental Association highlighted the urgent need to pool ideas and resources to combat the endemic nature of fluorosis in East Africa. "It is important to be able to establish mutually beneficial partnerships. This is a core item in the Sustainable Development Goal 17. The coming together of ideas to tackle a common goal and realize common dreams." Added Dr Oramis, "Using the reach of our members to access key stakeholders will be an important strategy if we are to tackle Dental fluorosis."
During the roundtable,  participants discussed the debilitating physical and psychosocial effects of fluorosis that is estimated to affect some 250 million people worldwide. Furthermore, they discussed strategies to reduce excess fluoride in groundwater and call for political level support.
As a result of the discussions, the Nairobi Declaration on Fluorosis was produced, outlining four key action areas to reduce the burden in fluorosis. Moreover, the East Africa Research Group was established to map areas of high fluoride in countries and build the capacity of local researchers to monitor and tackle this issue. In addition,  a White Paper slated for early 2024 will further illuminate this issue.
Dr Juilet Nabbanja, Chief Dental Officer of Uganda, shared "For Uganda the next steps would be a project to assess the magnitude of the problem of fluorosis in Eastern Uganda. We will need partners in this task, so we invite interested parties for this investigation and fact finding mission."
Read and share the Nairobi Declaration to raise awareness of the public health challenge presented by dental fluorosis.