Leave no one behind: what can you do to help improve the oral health of refugees?
Oral health is a basic human right but are we doing enough for refugees and other vulnerable populations? Read our quick guide and find out what you can do.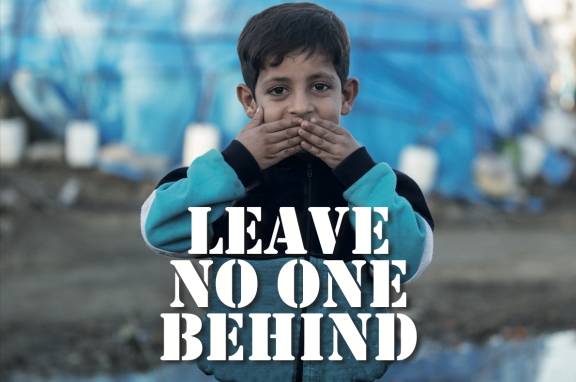 Refugees are among the most vulnerable groups worldwide. They have limited access to oral health education, oral disease prevention and therapeutic dental care. This is due, in part, to the relatively high cost of restorative treatment, limited access, and availability of dentists, unaffordability of dental insurance, and language barriers.
This quick guide summarizes the key challenges to improving refugee oral health and what can be done to help achieve improvements.
Delivering on FDI's Vision 2030
The goal for pillar one of FDI's Vision 2030 advocacy strategy states that essential oral health services should be integrated into universal health coverage (UHC) in every country, and quality oral healthcare should become available, accessible, and affordable to all, with special attention paid to marginalized and vulnerable populations.
Migration is a process that exists as a complex social determinant of health. It is a multi-phase journey that poses risks at every stage. Any pre-existing health conditions can be exacerbated by the harsh living conditions and inaccessibility of health services during migration.
In general, there is a lack of dental personnel in refugee camp settings and access to healthcare for refugees varies greatly across the globe. Often, there is a lack of access to primary healthcare services, which results in an overreliance on emergency services. The legal status of refugees is the most crucial factor in determining what services they have access to. So, there are many barriers to address if we truly want to provide oral health for all and leave no one behind. 
Prevalence of oral disease in refugee populations
Studies have indicated a high prevalence of oral disease and unmet oral healthcare needs in refugees, often exceeding the levels experienced by the most disadvantaged communities of the host country. Most commonly, refugees experience high levels of:
Dental caries

Periodontal disease

Oral lesions

Traumatic dental injuries
There is also evidence that refugees are less likely to access oral healthcare, and their first contact will often be for pain relief.
Barriers to accessing oral healthcare
Even if healthcare professionals are available, managing transportation costs to health centers and finding childcare to attend medical appointments can be challenging. In addition, when reimbursement does not cover the healthcare costs partially or at all, refugees often become hesitant to receive dental care.
Barriers to access oral health services vary according to the policies in pace and a refugees' status. For refugees who are already settled in host countries, long wait times, high cost, lack of dental insurance, and language barriers can be the main challenges.  Refugees in transit camps often have a tooth extraction instead of restoration due to the unavailability of dental professionals and a lack of funds to pay for treatment.
What can be done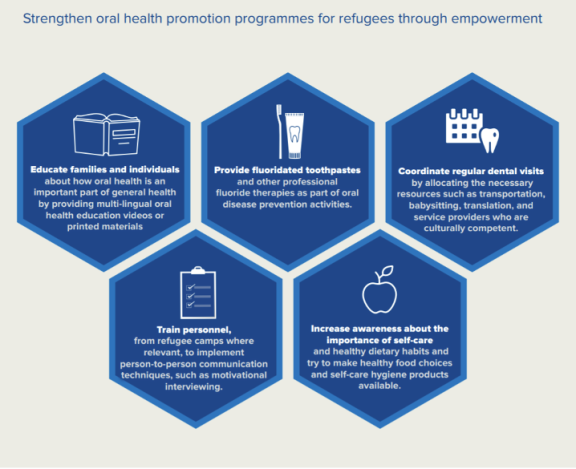 Watch the webinar: Refugee oral health – Time for Action
If you missed the webinar on this related topic and want to hear first-hand from an organization working on the ground about the role of international organizations in the promotion of oral heath for refugees. You can still watch it on demand  through FDI's Oral Health Campus and attain CE credits (you will need to sign-up to access the webinars if you have not already done so).
Refugee Oral Health: A Global Survey of Current Policies and Practices
This article describes the current policies related to refugee oral healthcare in different countries and the dental services offered in these settings. It is based on an FDI survey that collected data from National Dental Associations (NDAs) with the aim of understanding access to oral healthcare, avail-ability and affordability of oral health services, and current policies related to refugee oral health in different countries. The survey data was used to develop an advocacy guide to help governmental and non-governmental organizations working in oral healthcare provision to promote oral health among refugees.
About the project
The Refugee Oral Health Promotion and Care Project was launched in 2018 to understand how different countries' experiences, solutions, and epidemiological data on providing oral care to refugees can be combined to develop a toolkit that discusses clinical, policy, and societal recommendations and best practices to improve oral health care provision among refugees.
For those ready to lead the response to this issue in their country, more information and guidance can be found in the Promoting Oral Health for Refugees: An Advocacy Guide.