Electronic Health Records
07/03/2023
Learn about FDI's new project on Integrated Electronic Health Records in Dentistry
Supported by Henry Schein, the project aims to identify and understand the requirements of health care professionals related to integrated dental medical records.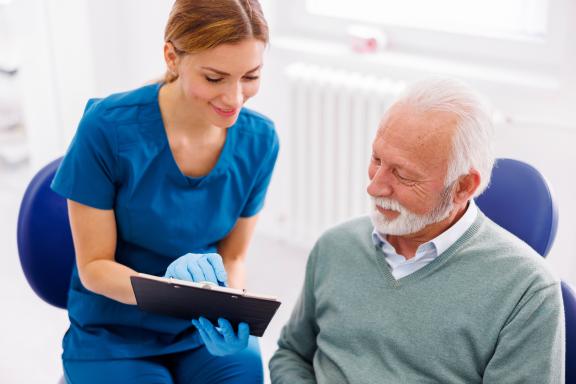 In modern health care, Integrated Electronic Health Records (EHRs) have emerged as a fundamental tool, digitally storing patients' medical history and facilitating access across diverse healthcare settings. Leveraging this technology to its fullest potential can significantly enhance the overall quality of health care and drive impactful research.
Taking a momentous step towards improving patient care and fostering interprofessional collaboration, FDI, in collaboration with Henry Schein, is launching its new project focused on integrated EHRs in dentistry.
 
Revolutionizing interprofessional collaboration and patient care
FDI's new initiative aims to effectively bridge the gap and understand the requirements of end-users regarding integrated dental medical EHRs by actively engaging with professionals and researchers in the field of dentistry. Their invaluable feedback will serve as the foundation for developing a recommended set of oral health indicators, ensuring that integrated EHRs comprehensively capture the necessary oral health data for optimal patient care and groundbreaking research.
"If harnessed effectively across all health care sectors, EHRs hold the potential to foster interprofessional collaboration and elevate patient care to new heights. We are thrilled to embark on this journey to comprehend the needs and preferences of dentists and dental teams concerning EHRs to enhance quality of care and fuel impactful research." – Prof. Ihsane Ben Yahya, FDI President.
Henry Schein, a global leader in providing innovative dental solutions, has demonstrated their commitment to advancing oral health care by lending their support to this project.
"Henry Schein Inc. and Henry Schein One are excited to collaborate with FDI to meaningfully advance medical and dental workflow interoperability through a professional and industry partnership to develop benchmark best practices for specific information field sharing in EMRs. We believe in supporting initiatives that deliver practical and precise insights from the patient health record to enable clinicians to deliver better patient care, and believe empowering closer working relationships between dental and medical practitioners is a key element of this journey. It is critical that industry and the profession encourage deeper practice interconnectivity between oral health and overall health, and this partnership with FDI aims to provide a foundational component to furthering integrated care models." – Ali Hyatt, Chief Marketing Officer, Henry Schein One.
The project further aims to provide guidance on the regular collection of data by dental health care providers to facilitate comprehensive health care, with the goal of promoting interprofessional collaboration and ultimately enhancing the overall well-being of patients.
Make sure to visit the project page regularly to get updates and find out more about the progress of this initiative.