Introducing the 2024 World Dental Development Fund recipients and their innovative projects
Each year, FDI commits to championing initiatives that promote global oral health. Learn all about the 2024 winning projects.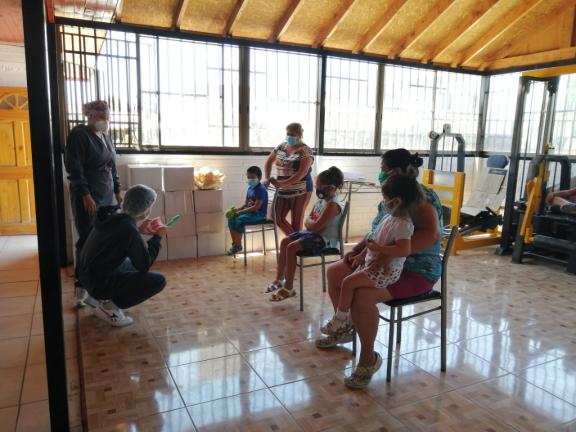 The World Dental Development Fund (WDDF) was established in 1999 to support innovative oral health projects around the world. Each year, FDI supports three to five projects with clear objectives to promote and improve oral health and prevent oral diseases in limited-income areas with oral health needs.
Earlier this year, FDI initiated a call for applications to support oral health initiatives for underprivileged communities through WDDF and is delighted to recognize the grant recipients for next year. In 2024, FDI acknowledges efforts from Bangladesh, Nepal, Pakistan, Peru and the United States of America as they work to improve oral health within their respective nations. Each of these initiatives, endorsed by their respective national dental associations, will be granted CHF 10,000 for the development of their projects.
 
Bangladesh's initiatiave to promote good oral health awareness among Refugee children
Among the projects selected to receive support from FDI's WDDF,  one is led by the Refugee Crisis Foundation in Bangladesh. Their outstanding initiative focuses on implementing a comprehensive programme, including supervised toothbrushing, handwashing, and the application of silver diamine, targeting schoolchildren in Cox's Bazar – home to the world's largest refugee camp.
 
Nepal's community outreach initiative promotes good oral health practices among school children
Kathmandu University's Dhulikel Hospital in Nepal has been awarded the WDDF grant to support their project titled "Promoting Oral Health in Nepal's Most Remote and Underserved Areas: A Campus-to-Community School-Based Programme." This initiative is scheduled to be implemented in the expansive Karnali Province, the largest province in Nepal.
The primary objective of this noteworthy project is to enhance the oral health status and habits of school children in these hard-to-reach regions. This will be achieved by training teachers and community health workers to conduct daily supervised toothbrushing programmes in rural settings. Additionally, the project seeks to evaluate and expand community engagement through various oral health promotion activities.
 
Pakistan's Aga Khan University Hospital to assess caries prevalence in Mithi, Sindh
The Aga Khan University Hospital in Pakistan is initiating a project with a primary focus on assessing the Decayed, Missing, and Filled Teeth (DMFT) index to determine the prevalence of caries in Mithi, situated within the Sindh Province.
By determining the prevalence of caries, the Aga Khan University Hospital aspires to develop effective preventive strategies to reduce the burden of caries among the population, especially in rural areas. In addition, this initiative seeks to implement a trained AI-enabled application for caries detection. This technology will be accessible to community healthcare workers, enabling them to assess the DMFT index in various regions across Pakistan.
 
Efforts to cultivate early oral health habits in Peru through mobile technologies
The "mOralHealth Strategy: Oral Health from Childhood for a Healthier Peru" project, spearheaded by the Asociación Peruana De Odontología Preventiva Y Social (APOPS), is a visionary initiative with a clear goal in mind: to improve the health of Peruvian children under 6 years of age.
With this initiative, APOPS will develop a health literacy and training programme that leverages the power of mobile technologies for oral health to prevent and control Early Childhood Caries (ECC). In addition, the project promotes an integrated approach by emphasizing that primary healthcare professionals, preschool educators and community workers are essential partners to empower families to control the determinants that affect the oral health of their children.
 
Developing a mobile dental application to increase oral health literacy in the United States of America
The final project receiving support from the WDDF for 2024 is the HIVE Mobile Dental Application Project from the Eastman Institute for Oral Health (EIOH), University of Rochester in New York, United States of America.
This innovative project's main objective is to assess and enhance the oral health of people living with HIV/AIDS (PLWHA) in the Rochester/Monroe County Area using the HIVE mobile dental application and a self-administered survey. The application will empower users to enhance their oral health knowledge, establish a dental care referral system, and support tobacco cessation efforts among those living with HIV/AIDS.
Furthermore, the project will conduct an oral health needs assessment to identify unmet dental needs, tobacco/tobacco product usage patterns, and barriers to tobacco cessation in PLWHA.
FDI commends the organizations leading these initiatives and hopes that, with the support of WDDF, these initiatives will drive positive and transformative change within their respective communities.