International Dental Journal
01/11/2022
International Dental Journal welcomes new Editor-in-Chief
Prof. Lakshman `Sam` Samaranayake takes over leadership of the journal from January 2022 and gets ready to implement his vision in this new open-access era.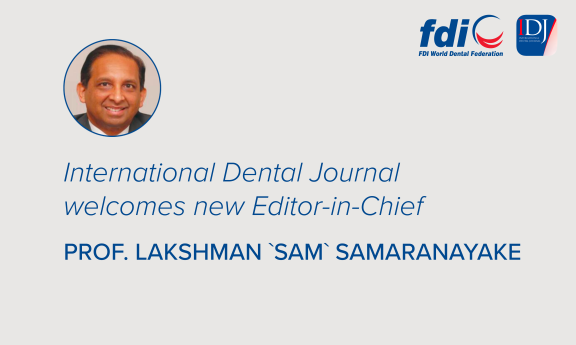 FDI council appointed a Search Committee to oversee the recruitment of a new Editor-in-Chief for the International Dental Journal (IDJ). And further to a rigorous applicant selection and interview process a new editor was appointed, who will take over the helm of the journal from January 2022. 
Meet the new Editor-in-Chief
Lakshman `Sam` Samaranayake, is a renowned scholar with expertise in clinical microbiology, research and academic publishing, dental pedagogy, and executive level administration. Graduating with a BDS from Sri Lanka he specialized in clinical microbiology and served as a Consultant Microbiologist in UK after which he joined academia.
Since then, working in universities in UK, Canada, Hong Kong, Australia and UAE, he has authored over 450 articles, cited over 28,500 occasions (h-index 93). He is the Founding Editor-in-Chief of the Journal of Investigative and Clinical Dentistry and an author of many seminal texts including Essential Microbiology for Dentistry, now in its fifth edition. He has also served as the Executive Dean of dental schools in Hong Kong and Australia at the Universities of Hong Kong and Queensland, respectively. He was also a FDI Councillor and a past chair of FDI's Science Committee.
A highly sought-after speaker, Professor Samaranayake has addressed professional bodies in over 40 countries and received numerous accolades for his outstanding contributions to dentistry, including the King James IV Professorship of the Royal College of Surgeons (Edinburgh), and the Distinguished Scientist Award of IADR. He holds many visiting/adjunct professoriate appointments in the universities of Australia, Thailand, Indonesia. UAE, and China.
Google Scholar: https://scholar.google.com/citations?hl=en&user=IbnO5cYAAAAJ