International Atomic Energy Agency releases new Safety Report on Radiation Protection
X-ray imaging, while an indispensable tool in dentistry, can carry a risk of harm. Read and share IAEA's new safety guidance.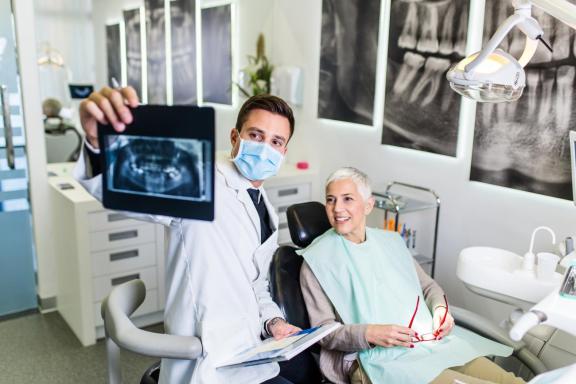 Radiographs, or X-ray imaging, are an indispensable diagnostic aid in dentistry as they allow the detection of disease and other abnormalities, as well as disease progression to be monitored. They also enable dentists to recommend the most appropriate treatment to their patients if necessary, such as cavity filling, dental crowns, implants, braces and many more.
To ensure that radiographs are used properly and when necessary, the International Atomic Energy Agency (IAEA), based in Vienna, Austria, recently released a Safety Report on Radiation Protection in Dental Radiology. The report provides guidance to dentists and the wider dental teams on the proper use of X-rays in dentistry.
While the effective dose for common dental imaging varies widely, dosage for Cone Beam Computed Tomography (CBCT) used for 3D imaging require larger amounts and carry the risk of harm through adverse effects. To mitigate risks, the new IAEA publication includes detailed guidelines for the justification of dental radiological procedures and the optimization of radiation protection and safety for patients and dental staff.
FDI is pleased to endorse the valuable publication and encourages dental professionals all around the globe to read and share the Safety Report along with the training material for trainers, and the eLearning course for dentists and dental teams. FDI expert, Prof. Ralf Schulz, collaborated closely with IAEA to help produce the training material. The Safety Report was reviewed by the FDI Dental Practice Committee and FDI Council.
About the International Atomic Energy Agency
The IAEA is the world's central intergovernmental forum for scientific and technical cooperation in the nuclear field. It works for the safe, secure, and peaceful uses of nuclear science and technology, contributing to international peace and security and the United Nations' Sustainable Development Goals.
FDI promotes the work of the IAEA and works with the agency to develop training and educational material to ensure radiation protection in dental radiology. X-ray examinations help dentists to diagnose, plan treatments and monitor both treatments and lesion development and are the most frequent type of radiological procedure, accounting for 21% of the total on a global scale, so it is critical that they are carried out safely.