International Dental Journal
07/05/2023
IDJ goes from strength to strength! Submit your papers now to FDI's prestigious scientific journal.
With an increased impact factor for 2022, IDJ Editor-in-Chief urges authors to submit their research to FDI's flagship scientific journal.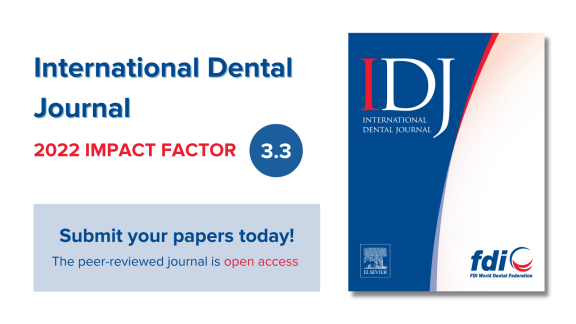 The International Dental Journal (IDJ), the official scientific journal of FDI, continues to make remarkable progress and solidify its position in the field. The journal's impact factor for 2022 has increased from 2.607 to an impressive 3.3, boosting its ranking to #30 out of 91 within the dentistry category (from #54/92 previously).
The IDJ serves as a platform for peer-reviewed clinical and public oral health-related articles, published every two months. As an open-access journal, it strives to shed light on the latest public health issues and showcase freely accessible clinical research, making it more readily available to interested readers.
 
Would you like to submit to the International Dental Journal?
Considering the continuous improvements seen in the IDJ, it has undoubtedly established itself as the voice of dentistry. By submitting your work to this high-quality journal, you have the opportunity to maximize your reach and make a global impact, as the IDJ boasts an extensive audience spanning various countries.
"The remarkable increase in the IDJ impact factor is a testament to the collective efforts of our diligent editors, associate editors, our publisher Elsevier, FDI and our valued readership. I wholeheartedly encourage authors to submit their manuscripts to the full, expanded, and all-inclusive IDJ, which has a new section dedicated to science and technology in dentistry," says Prof. Lakshman Samaranayake, IDJ Editor-in-Chief.
Whether you are an experienced researcher or an upcoming scholar, the IDJ provides an excellent platform to share your insights, contribute to the field, and further the mission of FDI. Join a community of experts dedicated to improving oral health by submitting your paper to IDJ today.