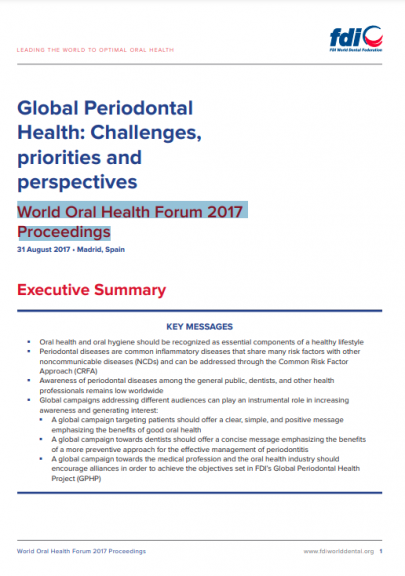 Periodontal (Gum) disease
Global periodontal health: Challenges, priorities and perspectives
World Oral Health Forum 2017 Proceedings
Published: November 2017
Periodontitis is closely linked with general health and major NCDs, such as cancer, cardiovascular diseases, and diabetes. Even though it is one of the most common diseases worldwide, it seldom receives the attention it deserves. This consideration has led FDI World Dental Federation (FDI) to launch the GPHP to tackle the burden of periodontal diseases.
This three-year project was officially launched in 2017. Its vision is to achieve global periodontal health; its mission is to reduce the global burden of periodontal diseases. The project involves a global awareness campaign; the development of specialized toolkits for patients, the public, oral healthcare professionals, policymakers and non-governmental agencies; symposia during World Dental Congresses; a World Oral Health Forum; and the production of a white paper and policy statements.
To pursue this work, the 2017 World Oral Health Forum (WOHF) was dedicated to periodontal diseases as a part of the ongoing GPHP. Current evidence, trends, and challenges linked to periodontal health and disease were discussed in three subsequent panel sessions. As a result, the draft content of the upcoming FDI white paper on periodontal diseases was reviewed and priorities for the GPHP were set.
Downloads