Global oral health strategy approved by WHO World Health Assembly
FDI commends the strategy and tells WHO that we are ready to support the development of the subsequent action plan and monitoring framework by 2023.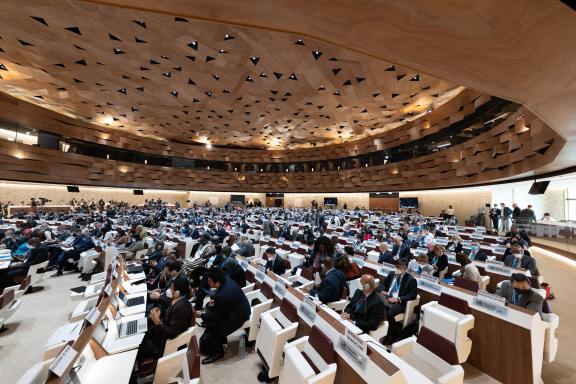 We mark a historic moment for the oral health community at the WHO 75th World Health Assembly (WHA75) as Member States officially approved and adopted the Global oral health strategy, during an intense week of discussions on a packed agenda, which took place from 22 to 28 May.
The strategy is the outcome of a long process that that was kickstarted in 2020 and spearheaded by the Member State from Sri Lanka,  who in a statement – supported by 17 other Member States – to the WHO 146th Executive Board, stated that:
"…there is an urgent need for more international political commitment to oral health and its integration into primary health care. Oral health care should not be an isolated part within the healthcare domain. It should be clearly embedded into the NCD and UHC agendas."
Sri Lanka's leadership combined with strong support from Member States resulted in WHO approving an Oral health resolution in 2021, which called for the development of a draft global strategy by 2022. FDI has been working with its members as well as other NCD associations and partners, to ensure our voice was heard during key consultation phases, when the language in the strategy was being drafted.  The version approved today, in fact, incorporated many of the suggestions made within the joint response submitted by FDI with the support of 65 organizations.
FDI President, Prof. Ihsane Ben Yahya said:
"The WHO Global oral health strategy strongly aligns with our own Vision 2030: Delivering Optimal Oral Health for All report. It is key that WHO Member States work together with FDI members and complement each other's efforts on the ground to ensure successful implementation of the strategies outlined. In this way, we can help achieve the common goal of improving the oral health and well-being of the populations we serve".
Work is now underway within WHO to translate this global strategy, by 2023, into an action plan for public oral health, including a framework for tracking progress with clear measurable targets to be achieved by 2030.
FDI's statement to the World Health Assembly
All Non-State Actors (NSA) such as FDI were restricted to giving one-minute verbal statements to Member States at WHA75, these could either be delivered in person or through a pre-recorded video message. FDI's video statement was read by our President, Prof. Ihsane Ben Yahya.