FDI unveils its three-year "A Happy Mouth is…" World Oral Health Day campaign, advocating oral health awareness
The World Oral Health Day (WOHD) 2024-2026 campaign was officially launched during FDI's World Dental Congress, in Sydney, on 24 September.
World Oral Health Day (WOHD) is celebrated globally every year on 20 March. Its purpose: to empower people with the tools and knowledge to prevent and control oral diseases, which affect nearly 3.5 billion people worldwide. WOHD encourages people to look after their oral health by adopting a good oral hygiene routine and managing risk factors. Preserving oral health can help keep the mind and body healthy too, as well as protect against the spread of infections. 
WOHD 2023 marked the culmination of the three-year "Be Proud of Your Mouth" campaign, which was launched in 2021 with the aim to inspire lasting and positive change by educating people on the vital role a healthy mouth plays in our lives. The campaign received an overwhelming response from people globally who actively participated in sharing the WOHD messages.
LAUNCHING "A HAPPY MOUTH IS…"
At the 2023 World Dental Congress (WDC) taking place in Sydney, Australia, FDI launched the new theme for the next 2024‒2026 three-year campaign:  ''A HAPPY MOUTH IS…''
With this concise yet hopefully impactful tagline, FDI wants to simplify oral health and make it accessible by explaining the benefits upfront in a plain-speaking way.
''A HAPPY MOUTH, IS A HAPPY BODY'' 
For each year of the 3-year campaign, the "A HAPPY MOUTH IS…" theme will be qualified by a focus area, which aligns with broader developments on the global health agenda, further to the adoption of WHO's Oral Health Resolution in 2021.
In 2024, FDI will be leading with ''A HAPPY MOUTH, IS A HAPPY BODY'' encouraging people to understand the benefits of a happy, healthy mouth by shedding light on the intricate link between oral health and general health.
The campaign will aim to motivate people to value and take care of their mouths and understand that by doing so, they can also help protect their overall well-being.
Introducing Toothie the beaver in 'A HAPPY MOUTH IS A HAPPY BODY'
Over the course of three years, Toothie, FDI's beloved beaver mascot, will take centre stage in an exciting movie-inspired campaign.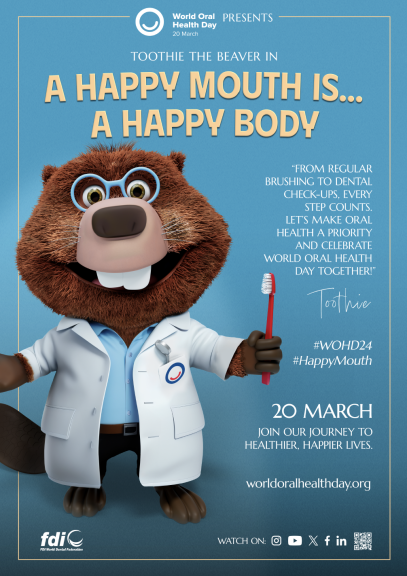 This fresh creative approach has been designed with the aim to captivate diverse audiences while also ensuring the continuation of the campaign broad-reaching impact.
In this new journey, Toothie will inspire people to prioritize oral health and come together to celebrate World Oral Health Day.
Access the campaign resources
In October, we will launch the full campaign toolkit with a wealth of supporting assets including digital tools so that you can help spread the word about WOHD 2024 through your social media channels. Make sure to mark your calendars and visit the campaign website (wohd.org) regularly to get involved with WOHD 2024. Join us on a path towards a happier and healthier you!
At the end of your campaigns, you may even get the chance to win a WOHD Award, like our champions from this year's campaign.
 Celebrating the WOHD 2023 award winners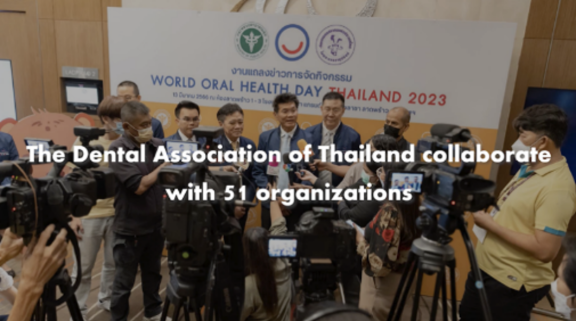 Best Media Campaign
The Dental Association of Thailand (DAT)
In a resounding effort to elevate awareness about oral health, the association joined forces with 51 organizations, orchestrating a remarkable nationwide campaign to celebrate WOHD. This expansive initiative, comprising both online and city-specific events in Khon Kaen, Songkhla, Bangkok, and Phayao, captured the attention of various media outlets, including online platforms, print publications, radio stations, and television broadcasts. The campaign generated significant buzz in traditional or online media, and across a range of platforms.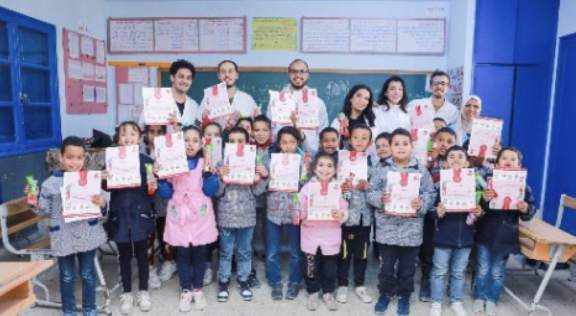 Best Social Media Campaign
The Tunisian Dental Students Association (TADS)
TADS left no stone unturned in celebrating World Oral Health Day through a series of impactful activities in close collaboration with partners and the government. Their 28-day, Prophylaxis Days initiative aimed to promote oral health awareness, encouraging the adoption of proper oral hygiene practices, and enhance access to dental care with a particular attention to underserved communities. As part of the campaign the association made a huge impact on social media as a decision was taken to revamp their social media presence in order to stay relevant and engaging in an ever-changing digital landscape. The positive response has sparked lively conversations in occasion of WOHD contributing to the improvement of their brand's reputation.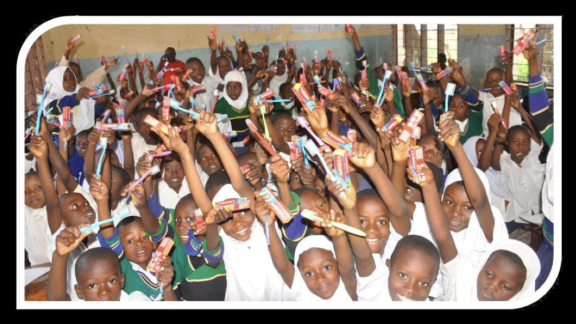 Most Educational Activity
The Tanzania Dental Association (TDA)
TDA organized a wide range of activities to celebrate WOHD, contributing to increase oral health literacy among the public. Their impact echoed through schools, health facilities, and public spaces across 26 regions out of 31, leaving no corner untouched. The objectives of the events were resoundingly achieved through active public engagement, the involvement of political leaders, collaboration with other healthcare professionals, and strategic partnerships with the media. These efforts played a vital role in raising awareness among dentists and communities, leading to increased and active participation in the World Oral Health Day activities.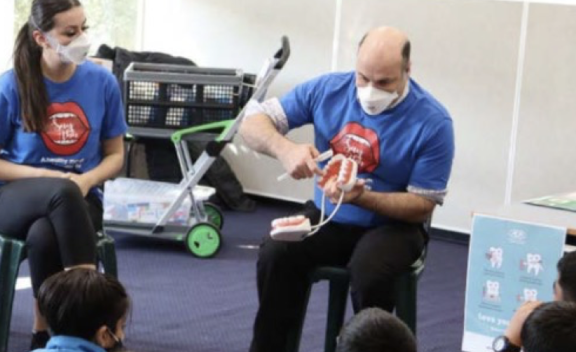 Best campaign by a dental practice or clinic
Monash Health Dental Services
Monash Health Dental Services has had a long stand commitment to the oral health of patients, families and communities within its municipality. The goal of the campaign this year was to promote oral hygiene behaviors and improve oral health awareness, shining a focus on the link between oral health and cardiovascular health. During the week of Monday 20th March, their dental team organized various activities for the community which included the exhibition and distribution of key information and materials in waiting rooms, and a comprehensive communication campaign. This key messaging reached up to 928 patients who attended the dental clinics, and 281 students at dental screenings across different schools. The campaign was highly effective in engaging the public and received positive feedback from dental clinicians.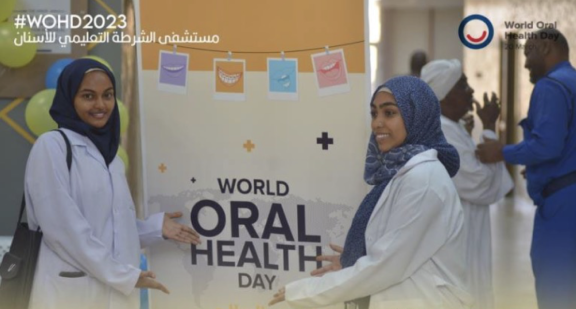 Most Original Activity
The Sudanese Association of Dental Students
The Sudanese Association of Dental Students orchestrated a diverse range of activities in honor of WOHD including free dental check-ups, oral health awareness programs conducted across different schools, hospitals, and also shops, groceries, restaurants, tea shops, petrol pumps, transportation stops. From March 18th to March 21st, a collaborative effort involving the secretary, vice of external relations office, national prophylaxis officer, office members, and fifty volunteers from different universities made the campaign a success, effectively fostering increased awareness about oral health across Sudan.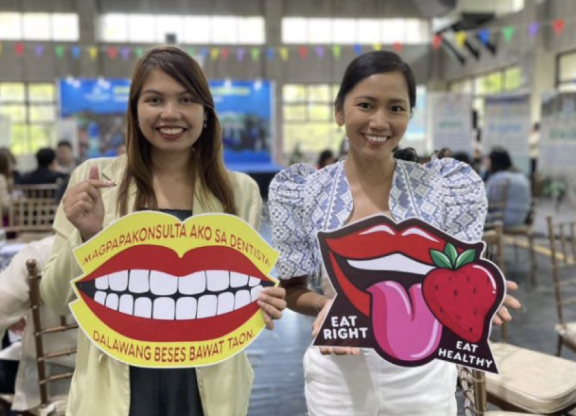 Best Branded Photo
Manila Water Foundation (MWF)
MWF celebrated World Oral Health Day (WOHD) with a series of impactful activities that aimed to promote proper oral hygiene practices for good health. Under their campaign "Health in Our Hands," the Foundation encouraged the public and target stakeholders to adopt healthy habits such as brushing teeth properly, regular dental visits, and maintaining a nutritious diet. A significant highlight of their activities was the #MouthProud Photo Features, featuring individuals expressing their support and sharing personal commitments to their oral health. These impactful photos served as a compelling visual representation of their dedication and were widely circulated as part of their engaging social media campaign.