FDI team "Goes blue for AMR" because antibiotic resistance is everyone's problem
The FDI team went blue in support of WHO's World Antimicrobial Awareness week. Why don't you show your support by signing FDI's pledge?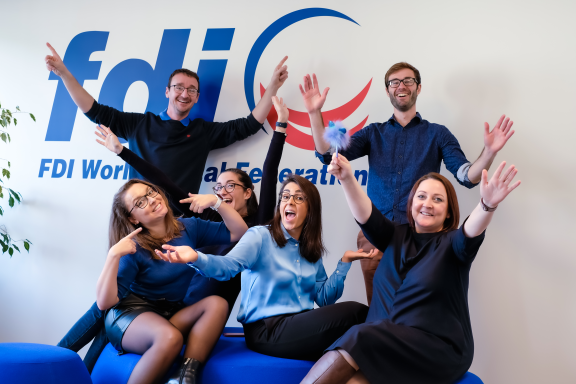 In celebration of WHO's World Antimicrobial Awareness (AMR) Week, taking place from 18 to 24 November, the FDI team went blue to show their dedication to tackling antibiotic resistance (ABR). It was also an opportunity to thank the 47 national dental associations (NDAs) who have, to date, signed FDI's Pledge and made a public commitment to address ABR.
The pledge is focused around three areas:
Awareness raising

Antibiotic stewardship

Infection prevention and control
Antibiotic resistance is everyone's problem. FDI recognized that this issue needed urgent attention, across dentistry, by first publishing a white paper entitled The essential role of the dental team in reducing antibiotic resistance, in 2020.  
FDI is now calling for action from dentists, dental teams, and the health sector more broadly to tackle ABR by signing the pledge. The pledge has already garnered great support and has been signed by 47 NDAs. Why not join them? Act today and sign the FDI Pledge.
Addressing one of the biggest health threats
The WHO predicts that AMR will be the world´s biggest killer by 2050. Antibiotics are the cornerstone of modern medicine and their overuse and misuse is driving the spread of drug-resistant infections. AMR is therefore recognized as one of the biggest threats to global health.
We need to make a clear and public commitment to tackling antibiotic resistance and communicate to the general public what appropriate antibiotic use in dentistry is all about and how it impacts them.
Alarming new data makes the case for urgent action
The public launch of the FDI pledge could not have come at a more pertinent time with new data from the UK showing that prescribing of dental antibiotics was up 22% in England during first year of COVID-19. This was driven by the lack of access to urgent dental care. Antibiotics are usually only administered for severe infections alongside treatment to drain the infection. Antibiotic-only dental care is rarely in line with guidance. But the restricted access to face-to-face dental appointments last year saw the medicines being prescribed when procedures would usually be a quicker and safer fix.