FDI survey says providing specialized endodontic care remains a persistent challenge in many countries
FDI recently released the results of a survey that asked FDI National Dental Associations and national endodontic societies about the state of endodontics in their country, including a PESTEL exercise to identify the main barriers to optimal endodontic care across the different domains (Political, Economic, Social, Technological, Legal, and Environmental).
A PESTEL exercise is a tool that is used to identify and analyze the key drivers of change in a specific environment.
Notable results of the survey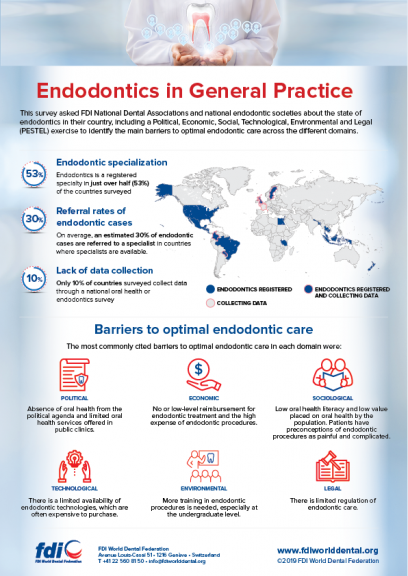 Putting the patient first
FDI calls for endodontic care to address a broader set of health outcomes as valued by the patient, including teeth retention and impact on overall health. Many patients are likely to prioritize eliminating pain and keeping the affected tooth healthy and strong over the long term. Considering the patient's perspective in the provision of endodontic care has significant implications for existing treatment guidelines.
Endodontics (in Greek, 'endo' means 'inside' and 'odont' means 'tooth') is the branch of dentistry concerning the conservation and treatment of dental pulp and tissues surrounding the roots of the tooth. FDI's Endodontics in General Practice project guides general dentists on the provision of optimal endodontic care.
Find out more...
The Endodontics in General Practice project focuses on the soft inner tissue of the teeth in daily dental practice and guides general dentists on the provision of optimal endodontic care.