FDI survey anticipates more registered periodontal specialists and periodontology associations
The Global Periodontal Health Project (GPHP), an initiative of FDI World Dental Federation (FDI), issued its first survey on periodontal health in 2017, providing insights from FDI's National Dental Associations (NDAs).
Two years later, in 2019, the follow-up survey was rolled out to monitor the evolution of the state of periodontal health awareness worldwide.
In 2019, 69 NDAs from 67 different countries across Africa, America, Asia-Pacific, the Middle East, and Europe responded to the survey, compared to 61 NDAs from 59 countries in 2017. Thirty-nine countries participated in both surveys, i.e. more than half repeated participation.
Download full report of GPHP 2019 NDA follow-up survey
Explore the results of the survey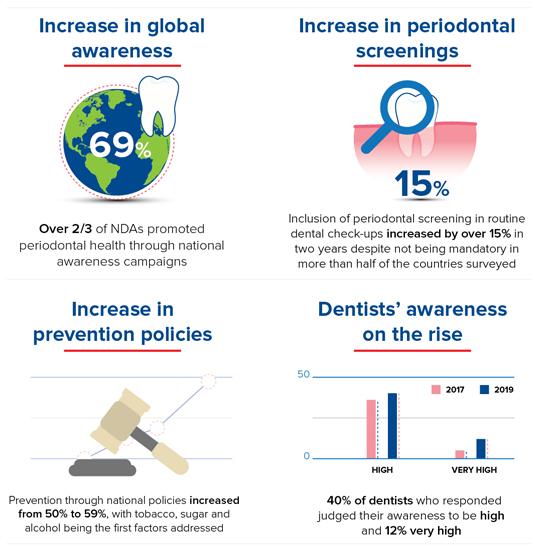 Download infographic of GPHP 2019 NDA follow-up survey
Improving periodontal health outcomes worldwide
Gum health is often overlooked during daily oral health routines. Periodontal diseases, including gingivitis and periodontitis are among humanity's most common diseases, affecting up to 50% of the adult population worldwide. Periodontal health is essential to general health and key to securing quality of life and well-being at every stage of life.
FDI's Global Periodontal Health Project (GPHP) was launched in 2015 to reduce the burden of periodontal disease by raising awareness of its impact and engaging the public, oral health and other health professionals, educators, and policymakers in promoting periodontal health.
Find out more...
The Global Periodontal Health Project raises awareness of periodontal disease and provides practical tools to engage the public, health professionals and policymakers to help reduce the burden.