FDI member National Dental Associations conduct tobacco cessation workshops
Learn how FDI members are arming oral health professionals with the necessary tools to deliver tobacco cessation advice to their patients.
Tobacco use can have many adverse effects on health, including oral health. It is, in fact, one of the major risk factors for poor oral health and its subsequent conditions. This is why, it is vital for oral health professionals to play their part in educating their patients about the effects of tobacco use.
As part of its Tobacco Cessation project, FDI helped some member National Dental Associations (NDAs) to conduct workshops in their countries. These were aimed at providing oral health professionals with the necessary information and tools to deliver tobacco cessation advice to patients in their practice. Find out how the workshops made an impact in the host countries.
Training oral health professionals to provide tobacco cessation advice to their patients
Eight capacity-building workshops were led by FDI member NDAs in Turkey, Greece, Palestine, Nigeria, Zimbabwe, Tanzania, Egypt, and Morocco. These were aimed at helping oral health professionals to learn how they could intervene to provide tobacco cessation advice to  patients in their respective countries using FDI'sTobacco Cessation Guide.
Some key results included the Nigerian Dental Association training 133 oral health professionals, including community dentists, oral and maxillofacial surgeons, restorative dentists, prosthodontists, paedodontists, oral pathologists and family dentists in a hybrid programme. Training a broad range of specialists can help to reach a larger demographic of people and advise them on the adverse effects of tobacco.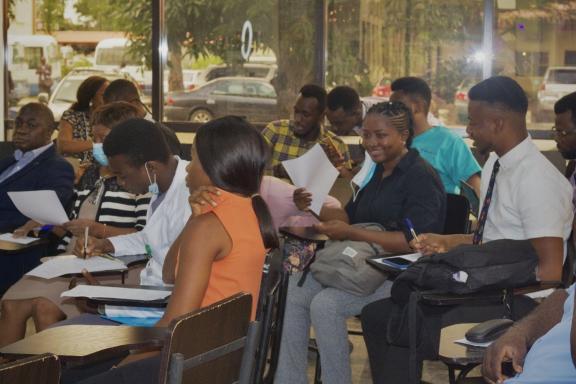 The Palestine Dental Association (PDA) conducted an awareness raising campaign to encourage oral health professionals to quit smoking themselves and to hold tobacco-free events in the future. PDA invited leaders from the Palestinian Ministry of Health, Palestinian Dental Association Board and dentists from the private and non-governmental organizations to participate in the tobacco cessation workshop. PDA is also planning to follow up with the participants to measure their commitment to activities related to tobacco cessation within their practice.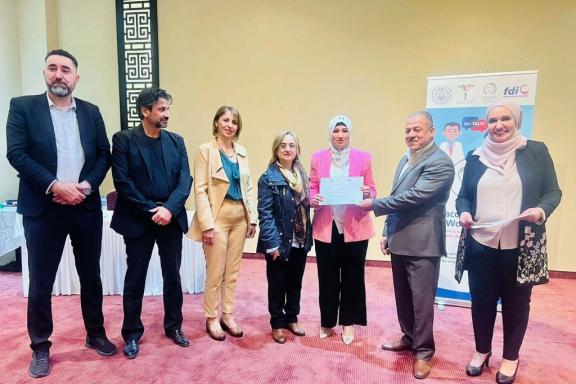 Meanwhile, the Turkish Dental Association included the tobacco cessation workshop in the programme for their Congress, which is a great platform to reach a large number of oral health professionals in the country. The Zimbabwe Dental Association also took the initiative to reach dental student associations through their annual educational events. FDI commends the work of its member NDAs and encourages dental associations all around the world to get inspired.
The capacity building workshops are a powerful tool to educate oral health professionals around globally about tobacco interventions. Through such workshops FDI hopes to equip dental teams with the tools and confidence to have these conversations in their daily practice and help their patients in tobacco-cessation efforts.
About the FDI Tobacco Cessation project
The project was launched in 2020 to provide oral health professionals with smoking cessation and control resources that can be implemented in the dental setting. The objectives of the project are to increase awareness of the fundamental role of the oral health profession in tobacco cessation, increase awareness of the dangers of tobacco smoking to oral health, and increase the knowledge and skills of oral health professionals in providing tobacco cessation interventions in dental settings.