FDI member Australian Dental Association is shaping the future of oral health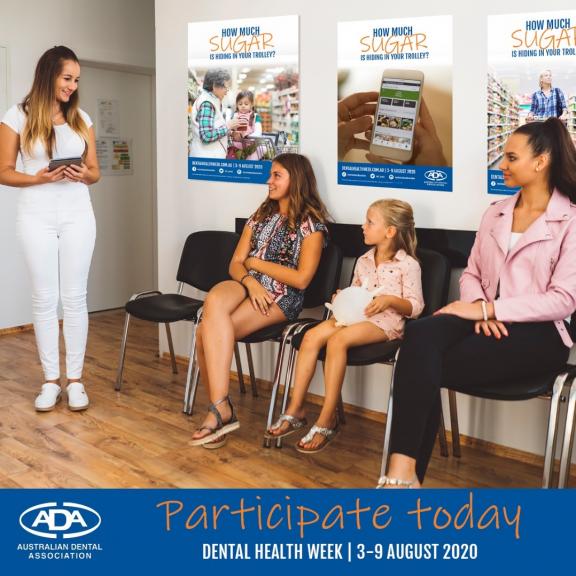 The Australian Dental Association (ADA), the main national body for dentists in Australia, is holding its major annual oral health campaign this week, between 3 – 9 August. Since 2014, ADA's Dental Health Week (DHW) takes place every year during the first full week of August.
How much sugar is hiding in your shopping cart?
This year's DHW campaign focuses on hidden sugars in everyday food. DHW seeks to assist Australians to make 'tooth friendly' choices when it comes to dietary habits by limiting the purchase and consumption of free sugars. The campaign not only raises awareness about oral health and provides evidence-based information, but also helps people to become 'sugar savvy'.  The camping includes several useful resources such as a Digital Resource Kit, Posters, Bunting, Colouring-in sheets, Fact sheets and Event Guidelines to raise awareness of unhealthy sugar consumption. The new feature for DHW this year is an EOI link where organizations and health professionals can sign up to receive DHW emails including campaign information and resources in the lead up to DHW. The key messages highlight the presence of hidden sugar in foods and drinks, explain how to find added sugar and encourage everyone to read labels in order to make healthy choices at the supermarket as well as at home.
Oral Health Challenges in Australia
Research shows that many Australian consumers look to the Nutrition Information Panel (NIP) when purchasing foods, and sugar is one of their greatest concerns. However, research also shows that many people still do not know how to interpret the messages they are receiving about sugar[1]. 73% of young people (14-18 years) and 47% of adults (18+ years) are consuming too much sugar[2].
Taken ahead of  World Oral Health Day (WOHD) on 20 March 2020, which the Australian Dental Association also celebrated, a survey showed that less than half (41%) of Australian parents limit their children's sugar food and drink intake and less than half (37%) of Australian parents take their children at least once a year for a dental check-up to ensure good oral health[3]. WOHD also calls attention to the dangers of excessive amounts of sugar, snacks, processed food and soft drinks consumption on oral health such as tooth decay and other oral diseases. FDI's global campaign spreads messages about good oral hygiene practices and demonstrates the significance of optimal oral health in maintaining general health and well-being.
FDI goes to Sydney in 2021 to bring the world together to improve oral health
The FDI World Dental Congress 2021, which is being co-hosted by ADA, shows a joint commitment to achieve a global community engagement and continue strengthening our partnership to improve the oral health of populations. Next year's congress theme is Educating for Dental Excellence. To advance the art and science of dentistry, this annual event delivers a cutting-edge scientific programme, interactive forums and a dental exhibition.
References
[1] Australian Dental Association. Event Handbook. Available from: https://www.ada.org.au/Dental-Health-Week-2020/Resources/DHW-Assests/DHW-2020_Event_Handbook.aspx [Accessed 16 July 2020].
[2] Australian Dental Association. Dental Health Week 2020. Available from: https://www.ada.org.au/Dental-Health-Week-2020/About [Accessed 16 July 2020].
[3] FDI World Dental Federation. Global survey shows that less than half (38%) of parents limit their children's sugary food and drink intake to ensure good oral health [Press Release]. FDI. 16 March 2020. Available from: https://www.worldoralhealthday.org/press/2020/less-half-parents-limit-their-childrens-intake [Accessed 16 July 2020].
The World Dental Congress (WDC) is a flagship event for FDI, strengthening ties and fostering collaboration within the global oral health community.