FDI honours Sustainability Champions at the 2023 World Dental Congress
At a sustainability-dedicated symposium, FDI applauded the remarkable efforts of individuals and dental practices striving to improve their environmental footprint. Meet the Sustainability Champions.
The first-ever FDI Sustainability Awards have been presented at a session dedicated to Sustainability in Dentistry during the 2023 World Dental Congress in Sydney, Australia.
These awards aim to promote sustainability in dental practices and encourage individuals as well as dental teams to play an active role in reducing dentistry's environmental impact on our planet.
Meet the 2023 Sustainability Champions leading the way to a greener future
The Sustainability Award celebrates and rewards those who can demonstrate that they implemented sustainable initiatives within their dental practices. This year, winners in two categories were celebrated: Individual and Dental Practice. These awards are a recognition of their outstanding commitment of adopting best-practice measures to the overall sustainability of their dental practice.
In the individual category, the deserving winner is Mrs Ignacia Vial from Chile. FDI proudly acknowledges Mrs Vial's remarkable efforts to improve sustainability in dentistry by presenting her with a reward of CHF 500. FDI wholeheartedly congratulates this Sustainability Champion for her dedication and hopes more individuals will follow in her footsteps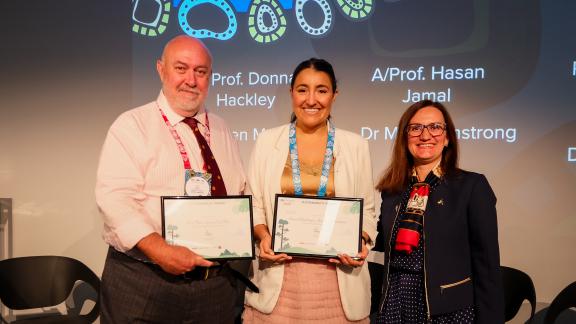 In the dental practice category, there are two exceptional winners, each receiving a reward of CHF 1000. The winners are Clinica Odontologica Alama / Odontoruteros from Chile, and Ars Salutaris from Croatia. Congratulations to these dental practices for their commitment to implementing sustainable practices that contribute to reducing dentistry's environmental impact.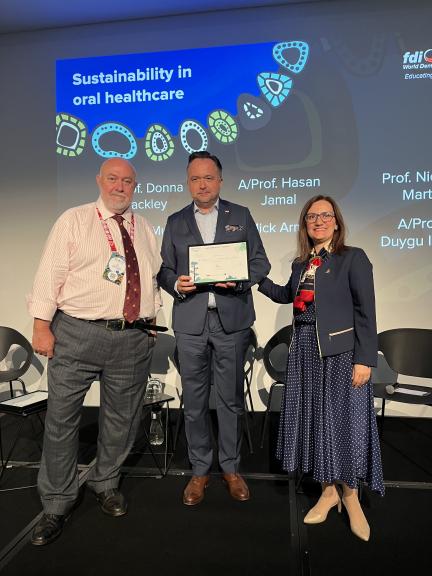 Would you like win a Sustainability Award?
Are you interested in getting the chance to win a Sustainability Award? Applications for next year's awards are now open. Don't miss the chance to get recognized for your incredible efforts and become a Sustainability Champion.