Exploring tele-dentistry solutions in 2021: Q&A with Dr Sophie Dartevelle
As many parts of the world continue to experience rapid digital transformations, dentists and dental teams can expect to encounter revolutionary changes in the way that they practice and deliver oral healthcare. Technologies driving the information revolution are redefining patient education, patient care, referral relationships, practice management, quality, and interprofessional collaboration.
FDI World Dental Federation spoke to Dr Sophie Dartevelle, honorary president of the French Union for Oral Health, former director of the WHO Collaborating Centre for Oral Health in Paris, and vice chair of the FDI Public Health Committee to learn more about tele-dentistry and what it means for both patients and practitioners. Dr Dartevelle has a far-reaching, global perspective of tele-health solutions in the dentistry space, and we are thrilled to be able to share her perspectives with our readers in the oral health community.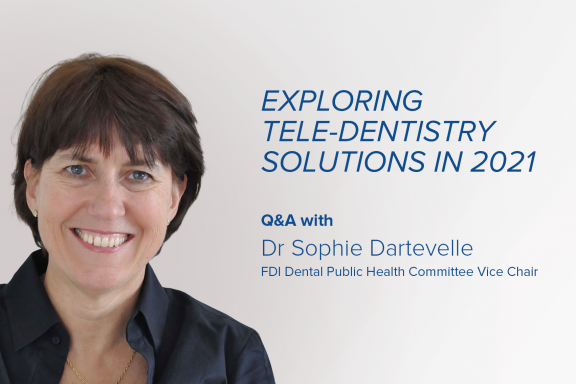 What is tele-dentistry?
As defined by American Tele-dentistry Association, tele-dentistry is the use of electronic information, imaging, and communication technologies, including interactive audio, video, data communications, as well as store and forward technologies, to provide and support dental care delivery, diagnosis, consultation, treatment, transfer of dental information, and education.
What are the benefits of tele-dentistry for patients and oral health professionals?
There are many reasons to opt for tele-dentistry. Tele-dentistry solutions are likely to improve the care and follow-up of patients by promoting their integration into a healthcare pathway.
Tele-consultations limit treatment delays in the dental office. Patients can receive quick and more accessible services from dentists, regardless of distance. Acting remotely, the dentist will be able to determine the treatment needs and their level of urgency; the dentist will be able to efficiently plan the consultation and reduce unnecessary appointments.
Tele-consultation also facilitates pre- and post-op consultations.
Tele-monitoring allows us to follow-up with patients based on their age, any disabilities they might have, their individual caries and periodontal diseases risk, the nature of the dental treatments they've had and their general health status.
The overall objective of tele-dentistry is to never break the link between the dentist and his patient.
Tell us about the French "Oralien" programme, designed to assist with the care of elderly people in retirement homes. Why was this programme initially implemented? What has been the impact of this programme on the oral health of the elderly population?
Good oral hygiene is a prerequisite for early prevention, for less intrusive care, and for a reduced need for care.
It's therefore important to raise awareness about good oral health among elderly people and their families, and to train their caretakers. The French Union for Oral Health – UFSBD – has been developing caretaker staff training sessions in nursing homes for more 20 years. We wanted to take our work a step further by exploring the benefits of tele-dentistry as a means to avoid lapses in dental care, to detect early treatment needs, and to keep caregivers engaged in maintaining good dental hygiene for those they care for.
The Oralien program is a comprehensive oral health management program for dependant elderly people and for disabled people.
The different steps of the program are:
on-site face to face training of caretakers;

setting up of customized hygiene protocols for each resident; and

monitoring of oral health indicators by tele-dentistry.
Recommendations are proposed via a set of indicators developed through artificial intelligence algorithms and are then validated by a dentist. These recommendations are shared (for each patient) on a dashboard in the nursing home.
The first results are very encouraging.
Oralien helps and supports care staff on a daily basis, helps them to verify the hygiene protocol, adapt it, and quickly detect care needs. The oral healthcare recommendations sent for each patient are practical and pragmatic.
Caretakers can also rely on the dentist in charge of the follow-up to organize an in-person consultation at the dental office if necessary.
How has COVID-19 impacted the delivery of tele-dentistry?
Tele-dentistry has considerably grown during the pandemic, especially in countries where all dental offices were closed.
Tele-dentistry became the only way that many dentists could answer their patients' emergencies: by phone, sending pictures through email or messaging apps, sending prescriptions.
It is important to note that at the moment, there aren't any regulatory frameworks or reimbursement methodologies in place in most countries in terms of tele-dentistry.
What do you feel are the limits of tele-dentistry?
Tele-dentistry cannot substitute certain oral health services, especially dental treatment. Sometimes, a diagnosis cannot be made without supplementary examinations that require equipment only available in dental offices.
It also depends largely on the quality of the technologies used, such as internet speed, quality of cameras and/or mobile phones, etc…
There's also the question of privacy. Security in web-based tele-dentistry has not yet solved, except in certain instances.
Mark your calendars for the in-depth tele-dentistry webinar
Join our experts in tele-dentistry, Dr Dartevelle (France), Dr, Iris Espinoza Santander (Chile), and Dr Andrea Maturana Ramírez (Chile) for their upcoming webinar on the FDI Oral Health Campus, Teledentistry—Practical Solutions.
When: Thursday, 24 June at 16h00 CEST.
Register here: https://www.fdioralhealthcampus.org/webinar/teledentistry-practical-solutions/.
This webinar is sponsored by FDI industry partner Unilever.