Estonian Dental Association and Palestinian Dental Association receive FDI Smile Awards
FDI World Dental Federation (FDI) recognized the 2019 Smile Award winners at the ADA FDI World Dental Congress in San Francisco on 3 September. Offered every year, the Smile Award recognizes FDI member national dental associations (NDAs) that have developed sustainable, long-term projects to improve oral health around the globe. This year, the Estonian Dental Association and the Palestinian Dental Association were each presented with a Smile Award.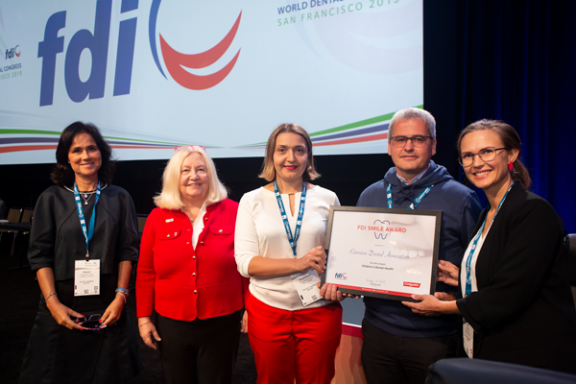 The Estonian Dental Association was awarded for its Children's Dental Health Project, which focuses on oral health education, prevention, and promotion among children and adults. In Estonia, providing oral health education continues to be a challenge and oral health outcomes continue to be poor. As part of the project, the "Clean Teeth" campaign provides a toothbrushing journal for kindergarten classrooms around the country, encouraging teachers to record each student's toothbrushing habits in the journal each day. So far, the campaign has reached close to 12,000 kindergartners. Preliminary results of the initiative indicate that the number of children brushing their teeth twice daily is increasing every month and participating children are enjoying the project. Next year, the project will aim to train all kindergarten teachers in Estonia on oral health education and so that all kindergartners will receive oral health lessons on a regular basis.
The Palestinian Dental Association was awarded for its Dental-Point Project, which provides urgently needed oral healthcare to people living in the Moria migrant camp on Lesbos island in Greece. Conditions in the camp are notoriously miserable. The Dental-Point Project clinic is the sole provider of dental treatment and other oral health services within the camp. In addition to providing emergency dental treatment, the clinic also offers oral health education sessions to demonstrate tooth-brushing techniques, offer dietary advice, and show children how to take care of their oral health, especially in such difficult living conditions. The clinic regularly distributes toothpaste and toothbrushes, and volunteer oral health professionals apply fluoride gel and silver diamine fluoride to patients' teeth. The project aims to recruit even more oral health professionals to ensure a continuity of care throughout the year.
The Smile Award is included within the scope of the Whole Mouth Health Project, which advocates globally to promote oral health literacy as an important element of everyday prevention. Launched by FDI in 2019 and supported by Colgate, Whole Mouth Health aims to empower practitioners to deliver personalized oral health education in a way people can understand and apply to their daily lives.
Find out more...
The 'FDI Smile Award' serves to promote preventive oral care at local level, awarding FDI Member Associations making a difference in oral health nationally through innovative and sustainable community outreach projects.
Oral diseases affect approximately half of the global population (3.58 billion people), and they are the most common noncommunicable diseases (NCDs) worldwide. Oral diseases impact people throughout their lifetime and have been linked to maternal infections as well as systemic diseases including diabetes and cardiovascular disease.