Empowering healthcare professionals to support vaccination of older adults
Register for the four-part course to learn how you can help educate older adults and those with chronic diseases to improve their vaccination rates.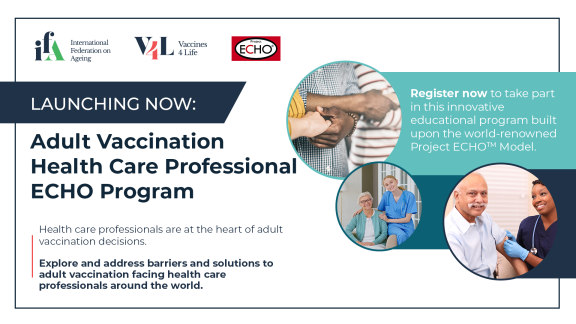 Recently, the COVID-19 pandemic has demonstrated that vaccine-preventable diseases tend to disproportionately impact older adults and adults with chronic diseases. Health professionals including dentists and dental teams have a key role to promote immunization through preventive measures such as vaccination amongst their patients, and more specifically amongst older patients.
For this reason, the International Federation on Ageing (IFA) formed an advisory committee and teamed up with different health professionals to determine their role in educating and improving vaccination amongst this population group. FDI Dental Practice Committee (DPC) Vice Chair, Dr Mick Armstrong, was nominated as FDI representative to be a part of the IFA advisory group. Over the past few months, Dr Armstrong has been providing input to help IFA develop an educational course entitled Adult Vaccination Health Care Professional Education ECHO Program (AV-HCP ECHO).
The course is geared towards different health professionals including pharmacists, nurses, dentist, community support workers, physicians and so on. It is comprised of four modules taking place from 7 July–18 August 2022 and aims to empower healthcare professionals to become champions of adult vaccination in their communities.