Cracked tooth syndrome: discover the new advice sheet for dentists and dental teams
Learn more about cracked tooth syndrome to help improve the oral health of patients and share amongst your peers and colleagues.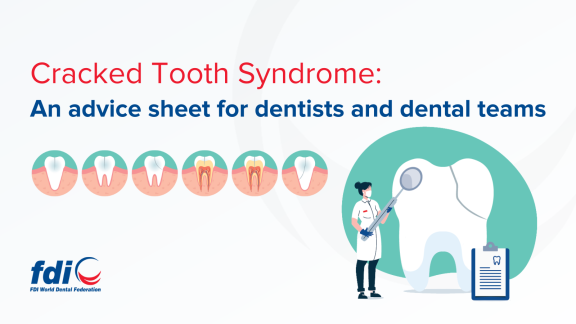 Cracked tooth syndrome (CTS) can be quite common amongst patients around the world and may be caused by stress or trauma-related symptoms such as teeth grinding and chewing or biting on hard objects. The prevalence of cracked teeth cases especially increased during the COVID-19 pandemic due to its stressful nature, affecting people's oral health and overall well-being.
Discover important information on the cracked tooth syndrome
To help dentists and dental teams appropriately diagnose and treat CTS, FDI's Dental Practice Committee (DPC) has developed an advice sheet, which outlines the aetiology, signs and symptoms, prevention methods, diagnosis and available treatments for CTS. The advice sheet clarifies that a cracked tooth is characterized as an incomplete fracture when a crack runs from the occlusal surface of the tooth down towards the root without breaking apart. Oral health professionals are highly encouraged to raise awareness of CTS amongst their colleagues and patients, and complete early diagnosis to preserve and improve the oral health of their patients.
A complementary infographic, which summarizes the content of the advice sheet, has also been developed to help dentists share the information with their peers, colleagues and patients, more easily. The infographic can also be displayed at dental practices.