Celebrate innovative initiatives to promote oral care with the 2023 Smile Grant Awards
Congratulations to the 2023 Smile Grant Winners from Australia and the Philippines for their outstanding efforts to champion oral health!
The 2023 Smile Grant Award ceremony took place during FDI's General Assembly in Sydney, Australia. Prof. Ihsane Ben Yahya, the FDI President, did the honours of presenting the awards to this year's winners hailing from Australia and the Philippines. FDI wholeheartedly congratulates the winners for their outstanding efforts to promote preventive oral care at the local level.
The Smile Grant, supported by Colgate, recognized initiatives undertaken by FDI member national dental associations (NDAs) to raise awareness and improve oral health through innovative and sustainable community outreach projects in their countries.
Read below to learn more about the winning projects for 2023.
The Australian Dental Association's strives for healthy smiles with its Teeth.org.au consumer oral health education website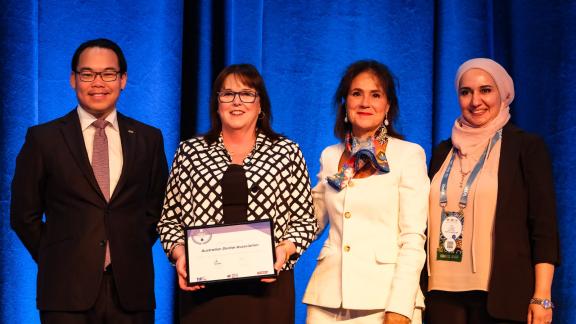 The Australian Dental Association (ADA) received an award for their groundbreaking consumer oral health education website, Teeth.org.au. Launched in 2021, this highly comprehensive website provides evidence-based oral health information and resources to the Australian public in a non-biased, up-to-date, and trustworthy manner. It also supports ADA members by enhancing their ability to provide safe, high-quality professional oral health care.
With a focus on two main target audiences – individuals from age 12 and above with internet access, and dental practitioners and health professionals – the website offers a wealth of resources including written articles, short professional-tip videos and even an engaging podcast. Notably, the ADA's outreach efforts encompass a wider scope by ensuring inclusivity. For instance, the website accommodates those who use Auslan sign language, and dedicates a page filled with information and resources tailored by Indigenous health professionals for Aboriginal and Torres Strait Islander Australians.
Teeth.org.au, with its multifaceted approach, stands as a resounding success in streamlining information dissemination to the Australian population. FDI commends ADA for their remarkable initiative and congratulates them on winning the 2023 Smile Award.
PDA empowers pregnant mothers to safeguard their oral health through the TOOTHousand Programme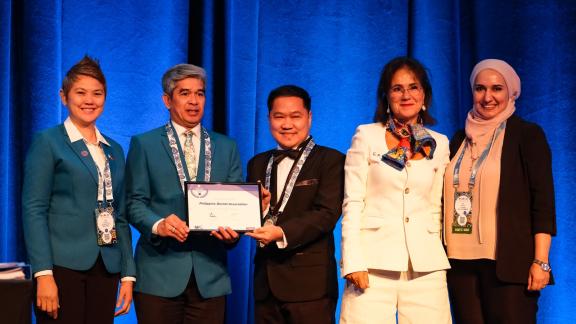 The Philippines Dental Association (PDA) won the Smile Grant for their outstanding oral health awareness programme for expectant mothers.
This initiative was developed in response to a concerning statistic: a staggering 83 per cent prevalence of oral diseases among children aged 5 to 12 in the Philippines. The overarching goal of this programme is to address this issue by focusing on the 270-day span of pregnancy during which mitigating oral diseases can reduce the risk of adverse pregnancy outcomes.
Through this programme, expectant mothers receive access to preventive dental services and are imparted essential knowledge regarding optimal oral health practices, which can then also be applied to their babies. The programme extends further, emphasizing the importance of breastfeeding during the first 180 days or 0-6 months of an infant's life to prevent dental caries. It also provides health and nutrition services, such as the application of fluoride varnish for the prevention of dental caries, to infants of six months and up to two years of age. And finally, for the continuity of care, children aged two to six are also included in the programme.
FDI applauds PDA's determination to empower pregnant mothers to safeguard their oral health to benefit their health, as well as their children's. Congratulations to PDA on winning the 2023 Smile Award.
Would you like to apply for an FDI Smile Grant?
The grant is included within the scope of the FDI Whole Mouth Health Project, which advocates globally to promote oral health literacy as an important element of everyday prevention. Launched by FDI in 2019 and supported by Colgate, Whole Mouth Health aims to empower practitioners to deliver personalized oral health education in a way people can understand and apply to their daily lives.
Are you an FDI member association and would like support for your local project? Find out how you can apply. The deadline for submissions is 1st February each year.