Brush Day & Night: In conversation with Prof. Tri Erri Astoeti, leader of the 21-day toothbrushing school programme in Indonesia
The International Dental Journal (IDJ) recently published a supplement entitled Brush Day & Night Partnership: The impact of school oral health programmes on children's knowledge, behaviour and oral health. The supplement is free to read as part of the IDJ's new gold open access model.
This supplement presents the results and successes of Phase IV of the Brush Day & Night 21-day oral health education programmes in schools.
About Brush Day & Night
In 2005, FDI World Dental Federation joined forces with Unilever Oral Care in a landmark partnership to implement oral health education programmes across the globe. Brush Day & Night has had a significant impact on children worldwide, specifically through 21-day toothbrushing programmes in schools that promote oral health education and oral disease prevention. These programmes have mostly been implemented in resource-poor settings where levels of oral disease are disproportionately high, driven in part by poor access to information and healthcare services among children, their families, and teachers.
Poor oral health can result in pain, school absences, and decreased well-being, exacerbating the challenges already faced by disadvantaged children. In such settings, school programmes offer an effective vehicle for improving children's oral health, reaching them at an age when habits are most likely to be formed and taking advantage of existing structures to deliver information and resources to those who may not access it elsewhere.
To mark the release of the IDJ supplement, FDI spoke to Prof. Tri Erri Astoeti, Brush Day & Night project leader in Indonesia for her on-the-ground perspective of the shifting oral health attitudes and changes in behaviour following the 21-day toothbrushing interventions.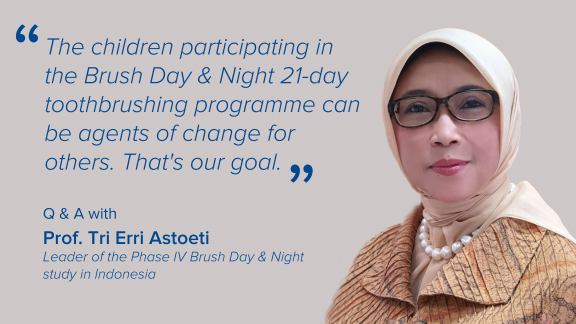 Tell us about Phase IV of the Brush Day & Night programme in Indonesia: what was the experience like for the participating children? How old were they? What kind of oral health education activities did they participate in?
The 21-day Brush Day & Night school oral health programme is a behavioural change intervention for young children. In Indonesia, we launched the programme in 22 schools in two cities.
In Phase IV of the programme, we've reached 2,700 children, 500 parents, and 100 teachers. At the same time, we've organized mass toothbrushing activities for 12,000 children.
Why did we implement Brush Day & Night in Indonesia? Well, health research in the country indicates that only 2.8% of Indonesians brush their teeth properly – meaning 97.2% of the population doesn't! "Properly" means in the morning and at night, after meals and before they go to sleep. Some people brush their teeth twice a day, but not always at the recommended time.
We collected data on children aged 6 to 8 years old to monitor their oral health behaviour and knowledge over time. We asked questions like, "How often do you brush?" "When do you brush?" and "Do you use a fluoride toothpaste?"
During the behavioural change intervention, we taught the children the correct brushing technique with a fluoride toothpaste, and we also raised awareness about the overall health and well-being benefits of having good oral health and a good oral hygiene habits.
 
What kind of feedback have you received from the children and teachers who participated in the programme? Had they received comprehensive oral health education before?
We've received a lot of positive feedback on the 21-day school programme. While children have been exposed to oral health promotion and education in the past, these methods are largely unsustainable. The children might learn about oral health, but not in a way that really shows them the impact of what good oral health brings to their daily lives.
The difference with Brush Day & Night is that we are developing good oral health habits that last.
The fact that we observe the children over a sustained period means that we can achieve improvement in good oral health behaviours. I'm glad to see that the 21-day programme delivers real results for these kids.
Results show that children who followed the school programme were less likely to see a deterioration in their levels of tooth decay after 24 weeks. How important is preventing tooth decay, particularly in children?
It is indeed very important for children to understand how to prevent tooth decay. As they are still in early-stage growth, they have the potential to have a perfect set of permanent teeth. This is my goal, our goal I think.
When children develop good habits from a very young age, they are more likely to keep them throughout their lives. We can all relate to this. What's more, these children can serve as role models for other children, too.
We hope that through the Brush Day & Night programme, these children can be agents of change for others of all ages.
With the parents of the children who participated in the 21-day programme for example, we can see the effects of not having developed good oral health habits from a young age. Many of these parents weren't able to develop a good oral health habit when when they were small, and I think this contributes to why we still struggle with a high oral disease burden in Indonesia.
How does Brush Day & Night encourage young children and their communities to develop oral health habits that last?
In general, it's very difficult to change attitudes and behaviours, even if we "know" what we need to do. Brush Day & Night is unique: for 21 days, we closely observe our participants, and they are reminded every day and every night to brush. So it's not only oral health knowledge, but also reinforcing attitude and behaviour adjustment each day. By the end of the programme, our aim is, of course, for this toothbrushing behaviour to become a lasting habit.
Oral health is an essential component of overall health and well-being. What quality-of-life improvements have you observed in the participating schoolchildren in Indonesia? What has changed for them at school?
Teachers have told me that the number of children missing school due to an oral health problem has been decreasing. Without twice-daily toothbrushing with a fluoride toothpaste and regular dental check-ups, a small cavity can quickly become a big, painful cavity. Brush Day & Night helps to solve this problem. I'm proud to have this programme in my country. We can really see the difference between "before" and "after" the interventions. I hope this trend can continue once the COVID-19 pandemic is behind us.
This interview has been edited for length and clarity. The interviewees views do not necessarily reflect the views of FDI World Dental Federation.