Be Proud of Your Mouth: Celebrating a three-year journey
World Oral Health Day (WOHD) 2023 concluded the "Be Proud of Your Mouth" campaign leaving a lasting global impact on oral health. Learn more.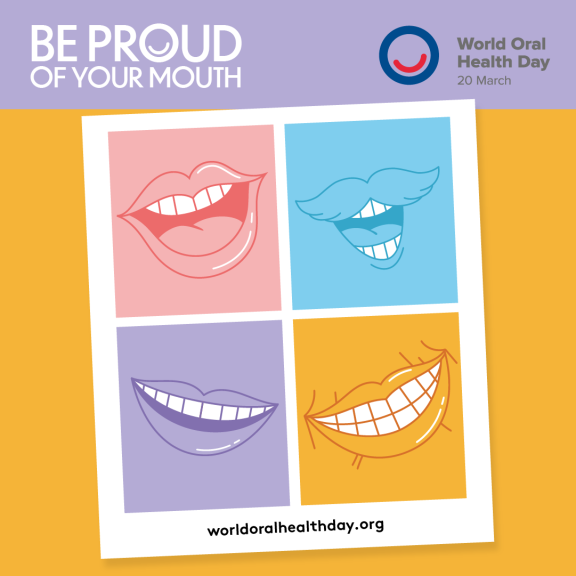 On 20 March every year, World Oral Health Day (WOHD) – FDI's flagship campaign – asks the world to unite to help reduce the burden of oral diseases, which affect individuals, health systems and economies everywhere. Its purpose: to empower people with the knowledge, tools and confidence to secure good oral health.
WOHD 2023 marked the culmination of the three-year "Be Proud of Your Mouth" campaign, which was launched in 2021 with the aim to inspire lasting and positive change by educating people on the vital role a healthy mouth plays in our lives.
Each year, the campaign focused on a different call to action: 2021 emphasized the fundamental link between oral health and general health. 2022 focused on how oral health is needed for happiness and well-being. 2023 focused on the importance of caring for your mouth at every stage of life and called upon people to look after their oral health for a lifetime of smiles.
Over the years, WOHD has evolved into a powerful global movement, thanks to the unwavering support of people worldwide who joined hands to spread the message of oral health awareness. Let's take a moment to celebrate the achievements and highlights of this incredible three-year journey.
 
Creating a Lasting Impact
The past three years saw an overwhelming response from people globally who actively participated in sharing the WOHD messages. Thousands of people got involved through events organized by dental associations, specialist groups, and the wider healthcare community.
By calling on people to be proud of their mouth, WOHD encouraged individuals to place an ornate art frame over their mouths using the different #MouthProud tools available online and on social media, as to symbolize their commitment to prioritize oral health.  The response was incredible. More than 84,000 ''proud mouths'' were shared across various online platforms, with 223 countries getting involved and an average media reach of 4 billion per year.
Thanks to this tremendous engagement FDI made a significant impact and was able to successfully wrap up the Be Proud of Your Mouth campaign.
 
Social Media and Online Activity
On 20th March, social media platforms were abuzz with an incredible amount of activity. Stakeholders from various backgrounds, including FDI members, WHO, Chief Dental Officers, hospitals, educators, media outlets, partners, sister organizations, and governments, actively participated encouraging people to take pride in their oral health for the sake of their general health, their happiness and well-being, throughout life. In 2023, the campaign video achieved a remarkable milestone, amassing an astonishing 2.2 million views, signifying a staggering 284% increase from the previous year's already impressive average of 500,000 views.
Throughout the three-year journey, the campaign generated an impressive 108,368 social media mentions, solidifying its widespread reach and impact. The engagement of influencers as WOHD Ambassadors played a crucial role in extending the campaign's message to millions of people across various platforms, including the popular TikTok.
 
Collaborating with partners
The "Be Proud of Your Mouth" campaign also received immense support from existing and new global partners. In 2023, two new Global Partners, Haleon and Smile Train, joined forces with valued partners Unilever and Dentsply Sirona. Their enthusiastic support and collaborative efforts helped amplify the campaign's reach and impact.
Additionally, Global Supporters Wrigley Oral Healthcare Program and Listerine® brought further visibility to the campaign, contributing to its widespread success.
 
Looking Ahead
The campaign's growth has been truly remarkable. Looking ahead, FDI faces the challenge of harnessing this momentum to create a lasting impact over the next three years, driven by its clear mission to help end the neglect of global oral health.
To achieve this, FDI has developed a new strategic approach for WOHD 2024-2026. This approach aims to increase engagement across various stakeholder groups and inspire as many people as possible to prioritize their oral health.
The unveiling of the campaign strategy will take place during the WOHD launch on 24th September in Sydney, as part of FDI's World Dental Congress. As we eagerly await the new campaign strategy, FDI encourages everyone to continue to prioritize their oral health and celebrate every smile with pride.