Bali Declaration on Oral Health in HIV/AIDS: dentists can help end the epidemic by 2030
The Indonesian Dental Association and the International Association for Dental Research convened the 8th World Workshop on Oral Health in HIV/AIDS (WW8) in Bali, Indonesia, from 13 to 15 September 2019. WW8 welcomed 640 delegates from 36 countries to gather and share the collective experience of dentists and doctors, including specialists in oral medicine and public health, who all have an interest in ending the HIV/AIDS epidemic.

Together, the delegates drafted a Declaration that highlights the important role of oral health professionals in managing patients living with HIV. The Declaration supports the the work of the Joint United Nations Programme on HIV/AIDS (UNAIDS) to end the global epidemic by 2030.
15 September 2019
Having reviewed the evidence presented to the 8th World Workshop on Oral Health in HIV/AIDS held in Indonesia, the delegates agreed that the UNAIDS objective of ending the global HIV/AIDS epidemic by 2030 could be significantly enhanced by improving the current level of knowledge in health care professionals and the public at large.
The workshop concluded that it is necessary to eliminate the stigma of HIV/AIDS, and to improve accessibility and compliance with effective therapy in order to stop HIV transmission. To achieve this, targeted educational input is required to ensure:
That the role of dental professionals is recognized as an integral part of the healthcare team committed to achieving the aims of UNAIDS.
HIV education of dental students and dental healthcare workers should be an essential element of the dental curriculum to ensure the profession has the appropriate knowledge and attitudes to manage people living with HIV.
That public health programmes make certain that the general public is aware of HIV testing and the role of dental healthcare workers in facilitating this: thereby further normalizing attitudes to people living with HIV.
Research into oral health serves to improve the diagnosis and care of patients and provides the evidence base that underpins future education. High quality research and educational initiatives for doctors, dentists and the community are urgently required to achieve the UNAIDS objectives.
"This Declaration is a key step in affirming the role of oral health professionals as essential players in delivering effective, multi-disciplinary care to patients living with HIV."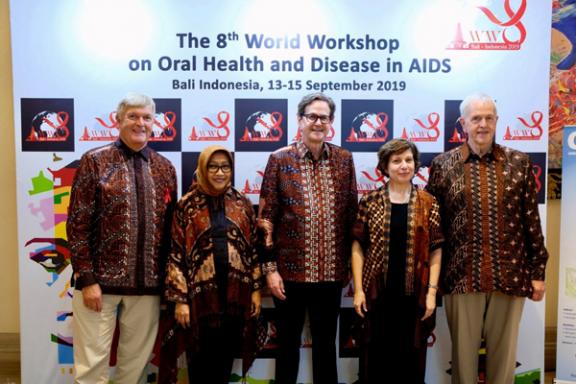 Oral Health and HIV
More than half of HIV-positive people develop oral symptoms early in the course of the disease. These conditions can cause pain and discomfort, leading to difficulty in chewing, swallowing and tasting food, and have significant impacts on quality of life. Oral health professionals have a key role to play in detecting the first signs of infection: HIV-related oral lesions can be used to diagnose HIV infection, monitor the disease progression, predict immune status, and contribute to timely therapeutic intervention.