ADA FDI World Dental Congress Opening Ceremony welcomes delegates, keynote speaker Mark Wahlberg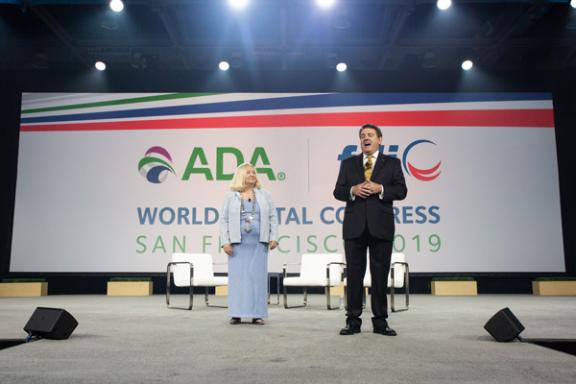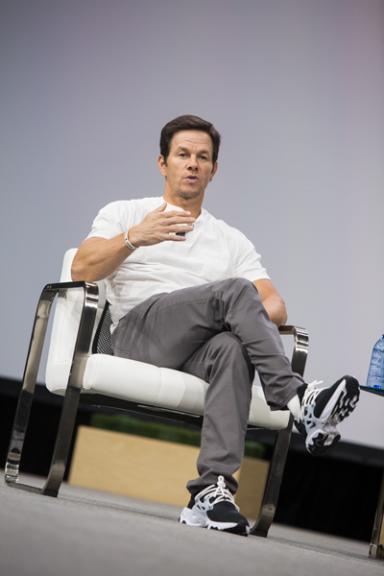 FDI World Dental Federation and the American Dental Association kicked off the ADA FDI World Dental Congress last night during the Opening Ceremony and General Session, held at the Moscone Center in San Francisco, USA. The evening began with the traditional flag ceremony, in which FDI member countries shouted enthusiastically when their country flag was displayed. FDI President Dr Kathryn Kell and ADA President Dr Jeffrey Cole welcomed Mark Wahlberg, American actor and philanthropist, as the keynote speaker. Wahlberg founded the Mark Wahlberg foundation in 2001 to support and empower disadvantaged children and teens. His commitment to youth, supporting children to be the best that they can be, aligns with FDI's mission to support and improve children's oral health and general health across the globe.
"I was delighted to have Mark Wahlberg as our keynote speaker. I enjoyed hearing his take on how dentists can empower young people at home and abroad."
Dr Gerhard K. Seeberger assumes FDI presidency, Dr John Clarkson awarded Charles Godon Medal of Honour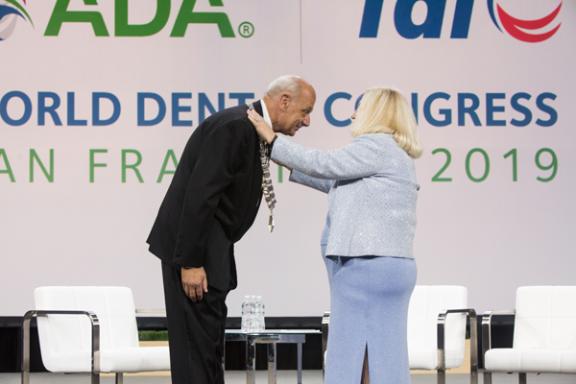 Dr Gerhard K. Seeberger of Cagliari, Italy, was officially sworn in as the new FDI president during the Passing-of-the-Chain ceremony. In his acceptance speech, Dr Seeberger expressed his gratitude and shared his vision for his two-year mandate. To his friends and colleagues from national dental associations around the world, he said, "I will stand up for you to be seen and speak up for you to be heard!"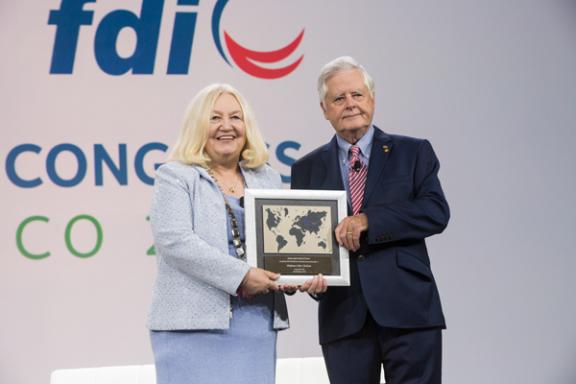 Dr John Clarkson, former executive director and past president of the International Association for Dental Research (IADR), was awarded the Charles Godon Medal of Honour. FDI confers this award on oral health professionals who have made an outstanding contribution to the dentistry field. As a dedicated expert, colleague, and friend to FDI for over 30 years, Dr Clarkson worked with care and dedication to advance oral health research for health and well-being worldwide.
American Dental Association recognizes key oral health actors
The ADA awarded American Congressman Mike Simpson, the longest-serving dentist in the United States House of Representatives, with the 2019 Distinguished Service Award. As the leading voice for dentistry within the United States government, Congressman Simpson played an instrumental role in passing the Action for Dental Health Act, a pivotal piece of legislation that has helped millions of Americans receive oral health education and much-needed treatment.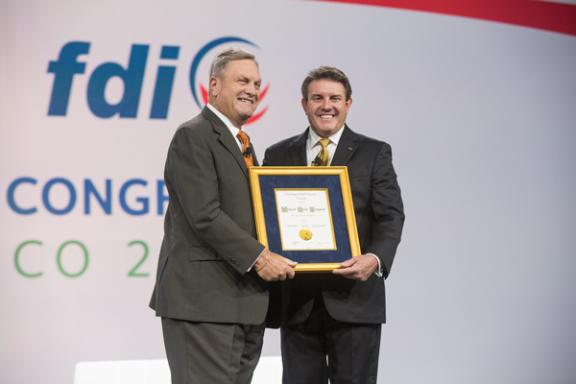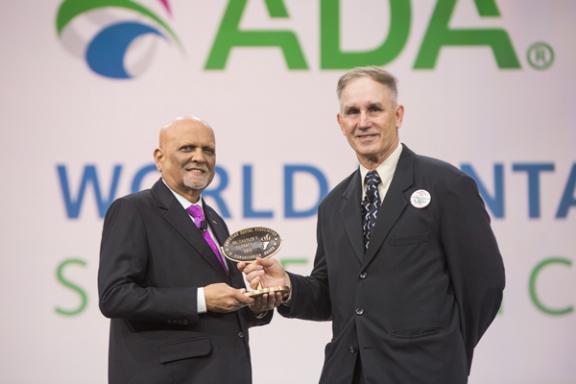 Dr Charles Craft received the ADA Humanitarian Award for his East Meets West Dental Program in Vietnam. As a leading advocate for public health dentistry, Dr Craft founded East Meets West in 1995. Since then, countless volunteer dentists have provided free dental treatment to rural patients in Vietnam.
The ADA FDI World Dental Congress industry exhibition ends tomorrow, 8 September at 16:00. Continuing education courses continue until Sunday, 9 September. 
All photos ©FDI World Dental/Gilberto Lontro