Access to oral health: challenges, solutions, and integration into primary health care
Tune in to the latest Dental Check-up episode to explore barriers to oral health care access and solutions through integration into primary health care. Discover innovative approaches and practical solutions to improve accessibility.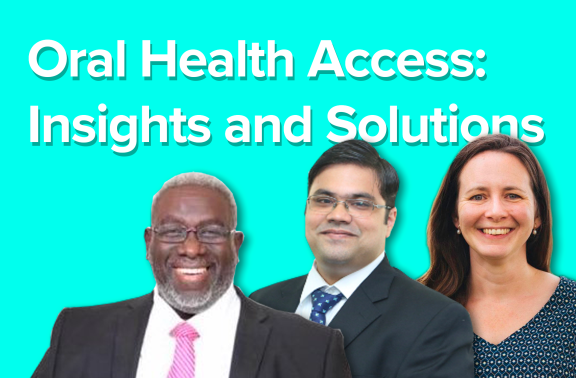 Oral diseases, despite being largely preventable, continue to be the most prevalent noncommunicable diseases (NCDs) worldwide. However, individuals in low- and middle-income countries bear the brunt of these oral health issues due to limited access to necessary services and care.
Despite overwhelming evidence that emphasizes the significance of oral health as a fundamental right and a crucial component of overall well-being, Universal Health Coverage (UHC) programmes in numerous countries fail to include oral health services in their coverage. Even in countries where some coverage is available, there are significant deficiencies in essential preventive and clinical services, particularly among vulnerable, disadvantaged, rural, or economically marginalized populations.
The latest Dental Check-up episode explores the many challenges and opportunities to increase access to essential oral health services through integration into primary health care to ensure that everyone can benefit from an enhanced quality of life.
Oral Health Access: Insights and Solutions
In March 2023, FDI, with support from Unilever, organized a full day roundtable discussion to review existing evidence on the challenges of universal access to oral care. Participants discussed what constitutes appropriate access to oral care, review replicable best practices for expanding access to oral care through integration into primary health care systems.
Ahead of the discussion, Dental Check-up host Tony Johnston conducted interviews with three roundtable participants, seeking their perspectives on the significance of the event. These experts represent various fields of practice, such as clinical practice and service management, policy analysis and advocacy, and academia. By drawing insights from these diverse perspectives, a comprehensive understanding of the essential components necessary to ensure appropriate access to oral care is provided.
"Oral health is very much a part of the health of the individual, so I'm very keen to be thinking about how it links with other NCDs. There are many opportunities to advancing access to care as a whole this year, including at the UHC high-level meeting coming up in September." States Dr Grace Dubois, Senior Policy Manager at the NCD Alliance.
Further to this, Prof. Manu Mathur, Professor of Dental Public Health at Queen Mary University of London, points out that oral health remains isolated from the broader health system, posing a major obstacle to accessing oral health care. Integration into the larger healthcare framework is crucial for addressing this issue effectively.
FDI's Vision 2030 emphasizes that integrating essential oral health care into primary health care can enhance accessibility. Dr Irving McKenzie, Chief Dental Officer, Jamaica, underscores the importance of oral health as an integral part of overall health, aligning with the World Health Organization's focus on UHC. He stresses that oral health should be available to those in need, at the desired quality and appropriate level, whenever required.
As a result of the roundtable discussion, a recently published white paper sheds light on the significant barriers hindering access to oral health care. The paper also highlights actionable solutions that policymakers can advocate for and implement to overcome these barriers.