Workshops on Tobacco Cessation and Teledentistry support FDI's capacity-building efforts
Capacity-building workshops aim to support global tobacco-control efforts as well as improve access to care through Teledentistry services.
Unfortunately, oral diseases affect nearly 3.5 billion people worldwide and pose a major health burden for many countries. Tobacco use, amongst others, is one of the major risk factors for poor oral health and its subsequent conditions. Dentists thus have an important role to play in educating their patients about the effects of tobacco. For this reason, through such workshops, FDI arms oral health professionals with the necessary tools and resources to implement the  Tobacco Cessation Guide and how to deliver tobacco cessation advice to patients in their practice.
Another step towards tobacco cessation
After the success of the first FDI Tobacco Cessation workshop hosted online in December 2021,  a hybrid version was held on 19 May 2022 in Al Jadida, Morocco. FDI President, Prof. Ihsane Ben Yahya, opened the event in her home country, which was attended by 20 participants representing National Dental Associations (NDAs) from nine countries in the African region.
The workshop aimed to educate oral health professionals on how to implement smoking cessation guidelines and provide related counseling to patients in their practices. Participants learnt through hands-on role play activities, structured around the 5As (Ask, Advise, Assess, Assist, Arrange) and 5Rs (Relevance, Risks, Rewards, Roadblocks, and Repetition) tobacco interventions. These are the most widely used delivery models in primary care that have proven to be effective in helping patients quit tobacco. Through such workshops the experts hope to equip dental teams with the tools and confidence to have these conversations in their daily practice and help their patients in tobacco-cessation efforts.
The workshop was held on the side-lines of the International Exhibition of Dentistry and was organized with the support of the Association Marocaine de Prévention Buccodentaire (AMPBD) and the FDI African Regional Organization (ARO). FDI Public Health Committee chair, Assoc. Prof. Elham Kateeb moderated the event, and the lead expert was Dr Dongbo Fu, No Tobacco Unit (TFI), Department of Health Promotion at World Health Organization. He was assisted by Prof. Hiroshi Ogawa of the FDI Public Health Committee and Dr Eleana Stoufi from the Greek Dental Association Scientific Committee.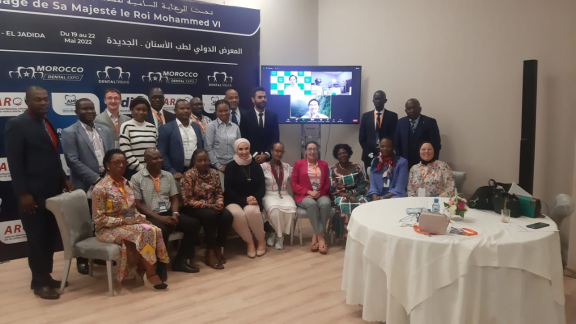 Increasing access to oral healthcare
A second workshop covered the topic of teledentistry as means of providing oral healthcare for the millions of people in the African region that currently have no access to such services, inevitably impacting their overall health, well-being and quality of life.
A focus group discussion took place on 20 May to discuss the benefits of such a service with African NDAs. Prof. Ben Yahya advised that teledentistry can provide an effective and cost-friendly solution to increase access to oral healthcare in the region. She highlighted that dentists, when consulting patients through such services, should also remember to deliver tobacco cessation advice to patients and help reduce the burden of oral health conditions.
This particular session was moderated by Sophie Dartevelle, FDI Council Member, and Olabode Ijarogbe, Member of the FDI Public Health Committee and President of ARO. The focus group, in line with FDI's Vision 2030: Delivering Optimal Oral Health for All, saw a fruitful exchange amongst African NDAs about the benefits of teledentistry, as well as its barriers and limitations.