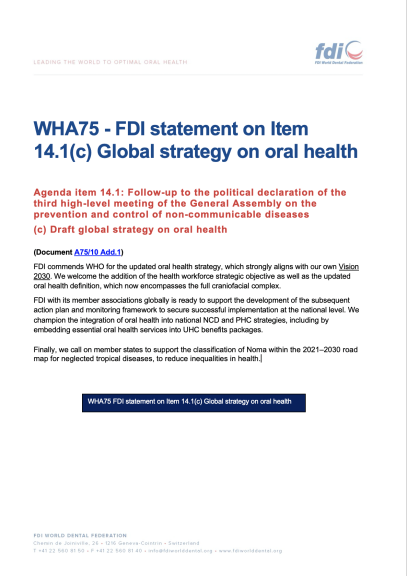 WHA75 - FDI statement on Item 14.1(c) Global strategy on oral health
Agenda item 14.1: Follow-up to the political declaration of the third high-level meeting of the General Assembly on the prevention and control of non-communicable diseases 
(c) Draft global strategy on oral health
(Document A75/10 Add.1) 
FDI commends WHO for the updated oral health strategy, which strongly aligns with our own Vision 2030. We welcome the addition of the health workforce strategic objective as well as the updated oral health definition, which now encompasses the full craniofacial complex. 
FDI with its member associations globally is ready to support the development of the subsequent action plan and monitoring framework to secure successful implementation at the national level. We champion the integration of oral health into national NCD and PHC strategies, including by embedding essential oral health services into UHC benefits packages.
Finally, we call on member states to support the classification of Noma within the 2021–2030 road map for neglected tropical diseases, to reduce inequalities in health.
Downloads